Great Conductors of the 20th Century Vol.11 - Nicolai Malko
Great Conductors of the 20th Century Vol.11 - Nicolai Malko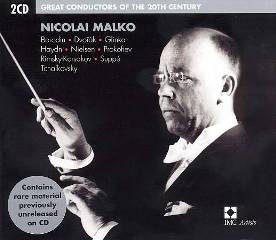 CD1
1	Mikhail Glinka - Ruslan and Ludmilla: Overture
Alexander Borodin Symphony No.2 In B Minor
2	I Allegro
3	II Scherzo. Prestissimo
4	III Andante
5	IV Finale. Allegro
6	Rimsky-Korsakov - Snow Maiden: Cortege
Pyotr Tchaikovsky The Nutcracker Suite Op.71a
7	Marche 
8	Danse De La Fee Dragee
9	Danse Russe (Trepak)
10	Danse Chinoise
11	Danse Des Mirlitons
Sergei Prokofiev Symphony No.7, Op.131
12	I Moderato
13	II Allegretto
14	III Andante Espressivo
15	IV Vivace

CD2
Joseph Haydn Symphony In G Major, Hob.I:92 'Oxford'
1	I Adagio
2	II Adagio
3	III Menuet. Allegretto
4	IV Finale. Presto
5	Franz von Suppe - Dichter Und Bauer: Ouverture
Antonin Dvorak Symphony No.9 In E Minor, Op.95 'From The New World'
6	I Adagio
7	II Largo
8	III Molto Vivace
9	IV Allegro Con Fuoco
10	Carl Nielsen - Maskarade: Overture

Danish State Radio Symphony Orchestra, 
Philharmonia Orchestra, 
Royal Danish Orchestra 

Nicolai Malko – conductor

Among the names included in the first batch of this IMG/EMI collaboration, that of Nicolai Malko, a largely forgotten figure, may raise eyebrows. So I shall start by outlining his career.
Malko was born in 1883 and included Rimsky-Korsakov, Glazunov and Liadov among his teachers. He became conductor of the Leningrad Philharmonic in 1926 and conducted the première of Shostakovich's First Symphony in the same year. However, he was succeeded by his pupil Evgeny Mravinsky only two years later when the tightening of the Soviet screws against the arts caused him to emigrate.
He held no prestigious post in the West but enjoyed a long-standing relationship with the Royal Danish and Danish State Broadcasting Symphony Orchestras and concluded his career as conductor of the Sydney Symphony Orchestra. He settled in the United States in 1940 where he also taught conducting; his thoughts on conducting technique were gathered in "The Conductor and his Baton" (1950) and a handbook on conducting currently available in the USA (Elizabeth A. H. Green: The Modern Conductor, 1996) is explicitly based on the principles of that book. He recorded quite extensively for HMV in Copenhagen and then with the Philharmonia, mainly Russian repertoire. The Prokofiev Symphony here was the first-ever EMI stereo recording, but his transfer to Australia in 1956 seems to have meant that he made no further records between then and his death in 1961.
A few years ago Danacord paid tribute to him with a double-CD album, "Nicolai Malko: The Danish Connection" (DACOCD 549-550) containing most of his recordings with the Danish State Broadcasting Symphony Orchestra, made between 1947 and 1950, and a few of his Philharmonia recordings from the same period. The Danish recordings include a "New World" which, as I shall discuss fully below, is far from a duplication of that on the EMI Classics album, Beethoven's Egmont Overture, Svendsen's Carnival in Paris and Festival Polonaise, Stravinsky's Suite no. 2, Rimsky-Korsakov's Capriccio Espagnol, three works by Tchaikovsky – the Capriccio Italien, the Waltz from the Serenade in C and the Lilac Fairy Waltz from The Sleeping Beauty – and, the one duplication between the two sets, Nielsen's Maskarade Overture. The Philharmonia recordings are all of short pieces: three extracts from Khachaturian's Gayaneh (including the Sabre Dance, only five years old: was this its first Western recording?) and items by Mussorgsky (the Gopak from Sorochintsy Fair), Rimsky-Korsakov (The Flight of the Bumble-Bee), Liadov (Baba-Yaga), Glazunov (Grande Valse from Raymonda) and Tchaikovsky (Gopak from Mazeppa and Valse des Fleurs from The Nutcracker).
The EMI Classics album is (with the exception of Maskarade) a compilation of EMI recordings from the 1950s, some of them still sounding very fine indeed. However, when most other issues in this series have been the fruit of extensive research and usually contain at least one live item, there is the suspicion that this is a slightly lazy compilation made with an eye to getting extra mileage out of recordings in EMI's own vaults. At least two items, as we shall see, do not contribute much and a trawl round the radio archives of three continents would surely have found something more revealing.
Incidentally, on a further Danacord issue (Great Musicians in Copenhagen: DACOCD 303) Malko can be heard partnering Piatigorsky (Dvořák Cello Concerto, first movement), Horowitz (Tchaikovsky Concerto, third movement) and Landowska (Poulenc Concerto Champêtre, second movement) in live performances from 1932 and 1934 which sound remarkably well for what they are, though the recording equipment can no more cope with some of Horowitz eruptions than it could with those of a volcano. The booklet amusingly explains how an engineer of Danish Radio built up, on the sly, an archive of some 150 78 sides of classical music in the early 1930s until the higher authorities caught him and indignantly told him to stop. It is not clear whether the performance excerpted exist complete, but the Horowitz should be issued forthwith if it does: this movement is fantastic.
However, both sets have detailed and useful notes (by Robert Layton in the present case) and between them give us a reasonable possibility of assessing whether or not Malko was, in fact, one of the "Great Conductors of the 20th Century". --- Christopher Howell, musicweb-international.com
download: