Pavel Chesnokov - Vesper Mass Op.44 (1991)
Pavel Chesnokov - Vesper Mass Op.44 (1991)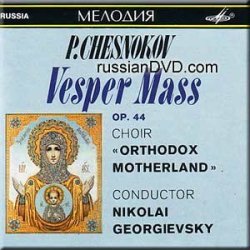 1. Bless the Lord, O my soul 
2. Blessed is the man 
3. Theotokion dogmatikon of the 7th voice 
4. O gladsome radiance 
5. The Lord is king 
6. Lord, now lettest 
7. Hail, Theotokos Virgin 
8. Praise ye the name of the Lord 		play
9. Angel Council 
10. From my youth up 
11. Arise, O God 
12. Having Beheld the Resurrection of Christ 	play
13. Save, O Lord, Thy people 
14. Sunday irmosi of the 7th voice 
15. My soul doth magnify the Lord 
16. Great Doxology 
17. Sunday troparion. 

Vladimir Matorin, bass (2, 13). 
Marina Georgieskaya, soprano (15). 
"Orthodox Motherland" Choir 
Nikolai Georgievsky - conductor. 

Recorded in 1991.

Despite the title, the All-Night Vigil presented on this 1991 recording is not, strictly speaking, Chesnokov's opus 44 (published by Musica Russica, Cat. No. Cn-ANV2). Of the ten numbers composed by Chesnokov under that opus number, only seven appear here: "Bless the Lord, O my soul," "Gladsome Light" and "Praise the name of the Lord" are taken from different opus numbers, and eight additional works, the "Dogmatikon in Tone 7," the Vesper Prokeimenon, "Rejoice, O Virgin," the Matins Prokeimenon, "O Lord, save Thy people," the Resurrectional Canon in Tone 7, "My Soul magnifies the Lord," and the Resurrectional troparion "Today salvation has come," have been inserted, creating a much fuller representation of the Resurrectional All-Night Vigil.
Chesnokov's prolific sacred choral output included both polyphonic chant arrangements and free compositions; in this respect, he can be regarded as an important precursor to Rachmaninoff, since most of Chesnokov's settings presented here were composed before Rachmaninoff's All-Night Vigil, which dates from 1915. Although there have been other recordings of Chesnokov's Vigil in our catalog, this rare CD, with its solid performance by the "Orthodox Motherland" Choir, constitutes an important addition to all collections of Russian Orthodox choral masterworks. --V.M., musicarussica.com
download:  uploaded anonfiles mega 4shared mixturecloud yandex mediafire solidfiles
Zmieniony (Wtorek, 01 Październik 2013 15:48)