Franz Xaver Mozart - Complete Piano Chamber Music (1994)
Franz Xaver Mozart - Complete Piano Chamber Music (1994)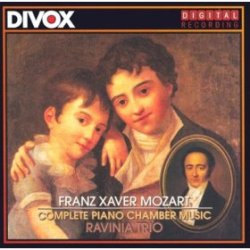 1	Piano Quartet In G Minor, Op. 1: I. Allegro Vivace	9:47
2	Piano Quartet In G Minor, Op. 1: II. Adagio Ma Non Troppo	5:36	 
3	Piano Quartet In G Minor, Op. 1: III. Allegro	3:55
4	Violin Sonata No. 1 In B Flat Major, Op. 7: I. Allegro	6:51	
5	Violin Sonata No. 1 In B Flat Major, Op. 7: II. Adagio Ma Non Troppo	3:30	
6	Violin Sonata No. 1 In B Flat Major, Op. 7: III. Presto	4:43	 
7	Grande Sonate, Op. 19: I. Allegro	11:10		
8	Grande Sonate, Op. 19: II. Andante Espressivo	5:51
9	Grande Sonate, Op. 19: III. Allegro Vivo		5:07	 
10	Violin Sonata No. 2 In F Major, Op. 15: I. Moderato	7:49	 
11	Violin Sonata No. 2 In F Major, Op. 15: I. Andante	1:59	 
12	Violin Sonata No. 2 In F Major, Op. 15: II. Polonaise	5:05	 
13	Violin Sonata No. 2 In F Major, Op. 15: III. Rondo: Allegretto	4:58

Ravinia Trio:
Peter Horr (Cello)
Rainer Schmidt (Violin)
Saiko Sasaki (Piano)
Hartmut Rohde (Viola)

Franz Xaver Wolfgang Mozart was born in Vienna, five months before his father's death. He received excellent musical instruction from Antonio Salieri and Johann Nepomuk Hummel, and studied composition with Johann Georg Albrechtsberger and Sigismund von Neukomm. He learned to play both the piano and violin. Like his father, he started to compose at an early age. "In April 1805, the thirteen-year-old Franz Xaver Mozart made his debut in Vienna in a concert in the Theater an der Wien."
Franz Xaver became a professional musician and enjoyed moderate success both as a teacher and a performer. Unlike his father, he was introverted and given to self-deprecation. He constantly underrated his talent and feared that whatever he produced would be compared with what his father had done. Needing money, in 1808, he travelled to Lemberg, where he gave music lessons to the daughters of the count Baworowski. Although the pay was good, Franz felt lonely in the town of Pidkamin , near Rohatyn, so in 1809, he accepted an offer from the imperial representative, von Janiszewski to teach his daughters music in the town of Burshtyn. Besides teaching, he gave local concerts, playing his own and his father's pieces. These concerts introduced him to the important people in Galicia (Halychina).
After two years in Burshtyn, he moved to Lemberg where he spent more than 20 years teaching (e.g. Julie von Webenau) and giving concerts. Between 1826 and 1829, he conducted the choir of Saint Cecilia, which consisted of 400 amateur singers. In 1826, he conducted his father's Requiem during a concert at the Greek Catholic cathedral of Saint George. From this choir, he created the musical brotherhood of Saint Cecilia, and thus the first school of music in Lemberg. He travelled throughout what is now Ukraine.
In the 1820s, Franz Xaver Mozart was one of 50 composers to write a Variation on a theme of Anton Diabelli for Part II of the Vaterländischer Künstlerverein. Part I was devoted to the 33 variations supplied by Beethoven, which have gained an independent identity as his Diabelli Variations, Op. 120. In 1838, he left for Vienna, and then for Salzburg, where he was chosen the Kapellmeister of the Mozarteum. From 1841, he taught the pianist Ernst Pauer. He died on 29 July 1844 in the town of Karlsbad, where he was buried. He never married, nor did he have any children. His estate was executed by Josephine de Baroni-Cavalcabò, the dedicatee of his cello sonata and a longtime patroness. His musical style was an early Romanticism.
The shadow of his father loomed large over him even in death. The following epitaph was etched on his tombstone: "May the name of his father be his epitaph, as his veneration for him was the essence of his life."
Mit dem Werk von Wolfgang Amadé, zunächst, haben diese Stücke kaum etwas gemein: Denn als der Sohn (1791-1844) im ersten Jahrzehnt des 19. Jahrhunderts zu komponieren begann, war die Musik seines Vaters so mausetot, wie es für die Bachsöhne die von Johann Sebastian gewesen war. Dafür hat Franz Xaver, der den Unterricht der besten Lehrer (Haydn, Hummel, Albrechtsberger, Salieri) genoss und auch ein herausragender Klaviervirtuose war, jenen Komponisten, der die Fackel vom Vater übernommen hatte, um so genauer studiert: Beethoven. Schon der Variationensatz im Klavierquartett des Elfjährigen (!) erinnert mit der innigen Stimme des Herzens und der Seele, die da erklingt, aber auch mit der volkstümlichen oder - sagen wir's offen - etwas kindischen Melodik an schwächere Hervorbringungen der frühen Beethovenschen Kammermusik. In späteren Werken finden sich dann Anklänge an Schubert, den Mozart wohl persönlich gekannt hat, aber durchaus auch eigenes, das oftmals freilich einer gewissen Neigung zum kompositorischen Hasard entsprungen ist.
Fazit: ein achtbarer Meister dritten Ranges, den wohl weniger die erdrückende Konkurrenz in der eigenen Familie als das Pech, zur falschen Zeit geboren zu sein, darum gebracht hat, der Nachwelt auch heute noch, wie etwa Wilhelm Friedemann Bach, zumindest ein «Begriff» zu sein. Gute, frische Interpretationen mit gelegentlichen, willkommenen Manierismen, staubtrockene Akustik, die die Instrumente aber konturenscharf klingen lässt.
download: uploaded yandex 4shared mediafire solidfiles mega filecloudio nornar ziddu
Zmieniony (Środa, 26 Luty 2014 10:23)