Hildegard Von Bingen – Vision: The Music Of Hildegard Von Bingen (1994)
Hildegard Von Bingen – Vision: The Music Of Hildegard Von Bingen (1994)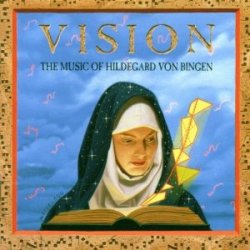 1. Praise For The Mother (O Virga AC Diadema)	Emily Van Evera/Sister Germaine Fritz/Richard Souther	5:05
2. Only The Devil Laughed (Sed Diabolus)	Emily Van Evera/Sister Germaine Fritz/Richard Souther	2:12
3. Vision (O Euchari In Leta Via)	Emily Van Evera/Sister Germaine Fritz/Catherine King/Richard Souther	3:39
4. Song To The Mother (O Viridissima Virga)	Emily Van Evera/Sister Germaine Fritz/Richard Souther	3:22
5. The Living Light	Emily Van Evera/Sister Germaine Fritz/Richard Souther	   2:06
6. Wherever (Unde Quocumque)	Emily Van Evera/Sister Germaine Fritz/Richard Souther	2:58
7. For The Virgin (O Frondens Virga)	Emily Van Evera/Sister Germaine Fritz/Richard Souther	1:55
8. For The Creator (O Quam Mirabilis)	Emily Van Evera/Sister Germaine Fritz/Richard Souther	2:44		plays
9. This Honorable Fame (Deus Enim Rorem)	Emily Van Evera/Sister Germaine Fritz/Richard Souther	2:36
10. The Anointing	Emily Van Evera/Sister Germaine Fritz/Richard Souther	5:01	
11. For The Trinity (Laus Trinitati)	Emily Van Evera/Sister Germaine Fritz/Richard Souther	3:49
12. The Chalice (O Vas Nobile)	Emily Van Evera/Sister Germaine Fritz/Richard Souther	2:08				play	
13. Divine Love (Karitas Habundat)	Emily Van Evera/Sister Germaine Fritz/Richard Souther	2:35
14. The Flower Gleams (Hodie Aperuit)	Emily Van Evera/Sister Germaine Fritz/Richard Souther	3:11
15. From This Wicked Fall (Cum Erubuerint)	Emily Van Evera/Sister Germaine Fritz/Richard Souther	3:12
16. Living Fountain (O Vivens Fons)	Emily Van Evera/Sister Germaine Fritz/Richard Souther	3:16
17. Vision (O Euchari In Leta Via)(Full Length)	Emily Van Evera/Sister Germaine Fritz/Richard Souther	6:07

Performer:
Emily Van Evera, Sister Germaine Fritz, Catherine King - vocals
Abraham Laboriel, Marcus Miller, John Patitucci - bass
Bashiri Johnson - percussion
Richard Souther - arranger

"Vision--The Music of Hildegard von Bingen"? Make that "Hildegard--the Dance Remix." (Yes, it has been used on the dance floor of at least one New York City nightclub.) What else can you call it when Richard Souther takes the stark, ecstatic plainchant of the 12th-century abbess and adds heavily produced electronic trance-and-dance tracks? Souther's additions aren't bad in themselves--they are a bit New Age-y, yet danceable in a druggy 3:00-a.m. kind of way--but slather them over Hildegard's spare, intense chant melodies and the effect is perverse, if not just silly. Don't blame poor Emily van Evera--she is a fine interpreter of Hildegard, and EMI simply asked her to record some unaccompanied solo tracks of the abbess's music and send in the tapes; she had no idea what was going to be done with them until this disc came out with her name on it. This shows up in the final product: the gently fluid pulse van Evera applied to Hildegard's music (which would make perfect sense in the a cappella performance she thought she was giving) feels completely disconnected from the rigid rhythms inherent in Souther's electronic accompaniment. Now, there are a number of customer reviews, below, from listeners who like this title a great deal--have a look at them, check out the sound clips, and by all means get this title if you're interested. But, if you're curious about Hildegard, go to the recording that made her famous eight centuries after her death: A Feather on the Breath of God. ---Matthew Westphal.
"Hildegard's music can be performed in many different ways. There's the 'purist' approach, that seeks to use top-class vocalists such as Emma Kirkby ('Gothic Voices') - who isn't on this album - in arrangements that come as close to the original as possible. The problem is, we simply don't know how the music really sounded when Hildegard wrote it. If you're a specialist, you'll already know why that is. But if you're not, it's all to do with the problems of interpreting the original manuscripts, and guesswork about what instrumentation Hildegard may have used. And we don't know how good Hildegard's nuns were at singing. The chances that any of them came close to technical virtuosi like Kirkby are pretty small.
One thing's for sure, though. Saint Hildegard - one of the most amazing and interesting women in recorded history - didn't have a bank of synthesisers, bass guitar samples, and sequencing machines back in the twelfth century. But, if they had been available to her, I think she would probably have made good use of them. She wrote books on science, sexuality, animals, healing, indeed all manner of things, as well as religious works, paintings, a secret language, songs, plays and letters to Emperors and Popes. Would such a woman say "No electricity in my convents, thank you very much"? I don't think so. She might well have seen the opportunity to use such facilities to discuss and glorify God and the universe.
For that reason, I think this recording is not really any less 'authentic' than the supposedly purer ones. The modernised arrangemnets here are hardly "Heavy Metal Madness, featuring the Nuns of Bingen"; the synths etc complement the vocals very delicately and effectively indeed.
I wouldn't say this is the *only* way to record Hildegard's music, for that would be very foolish. But it makes it very accessible to a modern audience, and I think it adds a new dimension to her work. If you don't have any other Hildegard works, I'd say start with this one, because it's very pleasant to listen to and it's likely to make you want to hear - and read - a lot more. If you know the 'purer' versions, I'd still say listen to it, because it's a different perspective on the material. And Hildegard herself often approached the same subject from various angles" --- E. Walters, amazon.com
download:  uploaded anonfiles yandex 4shared solidfiles mediafire mega filecloudio nornar
Zmieniony (Wtorek, 07 Styczeń 2014 21:47)