Frank Sinatra - Duets & Duets II - 90th Birthday Limited Collectors (2005)
Frank Sinatra - Duets & Duets II - 90th Birthday Limited Collectors (2005)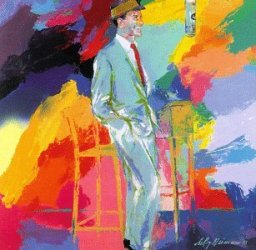 CD1 Duets

01 "The Lady Is a Tramp" Frank Sinatra & Luther Vandross
02 "What Now, My Love?" Frank Sinatra & Aretha Franklin
03 "I:ve Got a Crush on You" Frank Sinatra & Barbra Streisand
04 "Summer Wind" Frank Sinatra & Julio Iglesias
05 "Come Rain or Come Shine" Frank Sinatra & Gloria Estefan
06 "Theme from New York, New York" Frank Sinatra & Tony Bennett			play
07 "They Can:t Take That Away from Me" Frank Sinatra & Natalie Cole
08 "You Make Me Feel So Young" Frank Sinatra & Charles Aznavour
09 "Guess I:ll Hang My Tears Out to Dry/In the Wee Small Hours of the Morning" Frank Sinatra & Carly Simon
10 "I:ve Got the World on a String" Frank Sinatra & Liza Minnelli
11 "Witchcraft" Frank Sinatra & Anita Baker
12 "I:ve Got You Under My Skin" Frank Sinatra & Bono
13 "All the Way/One for My Baby (And One More for the Road)" Frank Sinatra & Kenny G.

CD2 Duets II

01 "For Once in My Life" Frank Sinatra & Glady:s Night
02 "Come Fly With Me" Frank Sinatra & Luis Miguel
03 "Bewitched, Bothered and Bewildered" Frank Sinatra & Patti LaBelle
04 "The Best Is Yet to Come" Frank Sinatra & Jon Secada
05 "Moonlight in Vermont" Frank Sinatra & Linda Ronstadt
06 "Fly Me to the Moon" Frank Sinatra & Jobim
07 "Luck Be a Lady" Frank Sinatra & Chrissie Hynde
08 "A Foggy Day" Frank Sinatra & Willie Nelson
09 "Where or When" Frank Sinatra & Steve & Eydie
10 "Embraceable You" Frank Sinatra & Lena Horne
11 "Mack the Knife" Frank Sinatra & Jimmy Buffett					play
12 "How Do You Keep the Music Playing?/My Funny Valentine" Frank Sinatra & Lorrie Morgan
13 "My Kind of Town" Frank Sinatra & Frank Sinatra Jr.
14 "The House I Live In" Frank Sinatra & Neil Diamond
15 "My Way" Frank Sinatra & Willie Nelson (previously Unreleased)

Personnel: 
Paul Viapiano, Ron Anthony (guitar); 
Michael Melvoin (piano); 
Chuck Berghofer, Dave Stone (bass instrument); 
Gregg Field, Jeff Hamilton (drums); 
Chrissie Hynde, Eydie Gorme, Gloria Estefan, Jimmy Buffett, Jon Secada, Kenny G, Lena Horne, Liza Minnelli, 
Lorrie Morgan, Luis Miguel, Luther Vandross, Neil Diamond, Patti LaBelle, Anita Baker, Aretha Franklin, Stevie Wonder, 
Tony Bennett, Natalie Cole, Julio Iglesias, Antonio Carlos Jobim, Gladys Knight, Linda Ronstadt, Frank Sinatra, Jr., 
Barbra Streisand, Bono , Wille Nelson, Carly Simon, Charles Aznavour.

During the 1970s and '80s, Frank Sinatra was so disheartened by the state of pop music and by the deterioration of his voice that he kept canceling album projects and recording sessions. This is a real shame because much of his best material from this same period has turned out to be from the very sessions that he quickly abandoned. This continued on until the early '90s, when Sinatra's wife, Barbara, persuaded him to record these two albums of duets. She wanted to get him energized about his career again and also wanted to have a piece of his recorded legacy to call her own (royalties from Sinatra's Capitol recordings go to charity, royalties from his Reprise recordings go to his children, while the ones from both of these duets albums mainly go to Barbara). Both of these albums were huge successes and have actually outsold most of his original releases. The only problem is that they shouldn't have been made in the first place. While neither disc is terrible, they are both pretty bad when held against most of Sinatra's considerable back catalog. This matter only gets worse when all of the songs heard here are famous Sinatra standards done in the same tempos that everybody knows. So, not only is the 78-year-old Sinatra competing against his younger self, he's also competing against the exact versions of songs that he cut in his prime. This two-disc set is really aimed as a gift purchase during the holidays. If you really want to pick up some Frank Sinatra, you'd be better served by getting a two-disc overview of his Capitol or Reprise years than this set. ---Nick Dedina
Capitol repackaged and re-released Frank Sinatra's Duets/Duets II as a slipcased box set to coincide with the singer's 90th birthday. It's not a bad way to acquire the albums if you don't already own them, and it does include one bonus track "My Way" with Willie Nelson, making this version of marginal interest to hardcore collectors. ~ Al Campbell
Say what you will about Sinatra's over-produced Duets and Duets II being the appropriate items to present as the "90th Birthday Limited Collecter's Edition" but once again the fans are milked for one more unreleased track. Sinatra and Willie Nelson duet on "My Way," but it's pretty obvious that as long as fans are willing to pay, we'll keep on getting the same-old rehashed tracks their way.
If you don't have this material already, this is probably the best place to get it, but if you're looking to celebrate Sinatra's 90th in a more fitting way, there are dozens of CD that are more worthy of your time. ---Jeff Barlow, amazon.com
download (mp3 @320 kbs):
uploaded yandex 4shared mediafire mega solidfiles zalivalka cloudmailru filecloudio oboom
Zmieniony (Niedziela, 26 Październik 2014 20:31)