Thelonious Monk - Monkism (1954/1998)
Thelonious Monk - Monkism (1954/1998)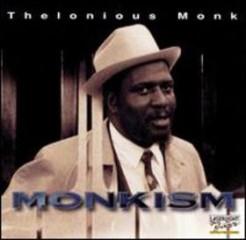 1 	Round About Midnight 	5:14
2 	Evidence 	3:04
3 	Smoke Gets In Your Eyes 	3:23
4 	Well You Needn't 	3:24
5 	Reflections 	3:01
6 	Wee See 	2:34
7 	Eronel 	2:32
8 	Off Minor 	2:31

Thelonious Monk - piano
Percy Heath - bass
Al McKibbon - bass
Max Roach - drums
Art Blakey - drums

Less than a month after leading a quartet session with Ray Copeland (trumpet), Frank Foster (tenor sax), and Curly Russell (bass), Thelonious Monk (piano) was documented during this June 7, 1954 solo session in Paris for the Vogue label. Over the years these nine performances have been packaged and re-packaged. This mid-'90s CD reissue seems to take a bit of an edge over many of the midline titles as the audio has been remastered and by all accounts sounds excellent. In terms of contents, it is interesting to note that three of the numbers Monk had cut with Copeland, Foster, and Russell on May 11, 1954, he re-recorded in this, his very next studio outing. Those selections include the Monk originals "We See," "Hackensack," and cover of "Smoke Gets in Your Eyes." It is indeed a thrill to hear the artist accompanying himself on eight of his best-known and loved songs. There truly isn't a dull moment during the half-hour program, beginning with the charm and sophistication of "'Round Midnight." With all excessive (read: "other") instrumentation stripped away, the true density inherent in Monk's arrangements, as well as his equally complex performance style is more clearly revealed. The hurdy-gurdy of "Evidence" has a playful organic quality that sounds comparatively rigid or structured when placed beside any of the renditions Monk cut in a quartet, for instance. At times, it sounds as if he is genuinely amusing himself as he weaves short responsive phrases. The aforementioned update of Jerome Kern's "Smoke Gets in Your Eyes" is wistful as the melody line spills out, almost as if by accident, from beneath Monk's fingertips. The sly understated gamboling on "Well You Needn't" is often hidden in the context of a larger ensemble. When peeled back, what lays bare are sturdier examples of Monk's influences -- namely the stride style heard in Fats Waller and Willie "The Lion" Smith. Yet he never allows his counterpoint to stray too far. The laid-back and impish "We See" rollicks as Monk's frenetic runs up and down the keys are punctuated in a taunting manner by emphatically rhythm-centric chord progressions. The pensive nature of "Reflections" resonates with a particular potency masked by the intrusive nature of additional instrumentation. Surely if ever Monk wrote a tune that worked most effectively as a piano solo, it is "Reflections." And that is a sentiment that could actually extend to the whole (and remainder) of Solo 1954 as well. ---Lindsay Planer, AllMusic Review
Album zaliczany do 100 najlepszych jazzowych albumów wszechczasów!!!. Wspaniały skład tria założonego przez ekscentrycznego Theloniousa Monka we własnym repertuarze.
Płyta zawiera pierworodną wersję monkowskiego szlagieru "Blue Monk". To niezwykły krążek zawiera nagrania, które powstały pomiędzy 1951 - 1954. Niestety do dzisiaj zachowało się niewiele nagrań studyjnych tria Monka, na dobrą sprawę z wyjątkiem pierwszego tria z 1947 roku, płyty "the trio Plays Duke Ellington" z 1955 roku, oraz późnego nagrania z Artem Blakey'em i Alem McKibbonem z Londynu z 1971, są to JEDYNE STUDYJNE nagrania Monka.
Thelonious Monk preferował skład kwartetowy (najczęściej u boku mistrza pojawiał się Charlie Rouse na saksofonie tenorowym), przez kilka lat prowadził duże składe oktetowo-nonetowe, pojawiali się tam m.in. Clark Terry, Ray Copeland, Johnny Griffin czy Phil Woods. Zwykł również grywać utwory solo podczas występów, co świadczyło o wszechstronności i nieustających poszukiwaniach tego wyjątkowego innowatora jazzowego fortepianu. Nie wiadomo, dlaczego nie był fanem grania w trio, lecz może ma to związek z tą szczególną wielogłosowością jego kompozycji, która pewnie lepiej realizowała się w większych składach z instrumentami dętymi.
Na płycie "Complete 1951-1954 Recordings" usłyszymy wszystkie atuty monkowskiego stylu (z typowym dla niego "groovem" i nietypowymi dysonansami), który przez wiele lat uznawany był za zbyt awangardowy a dzisiaj stanowi niedościgły wzór dla kolejnych pokoleń pianistów. ---empik.com
download (mp3 @320 kbs):