Dizzy Gillespie - DeeGee Days (The Savoy Sessions) 1-2 (1985)
Dizzy Gillespie - Dee Gee Days (The Savoy Sessions) 1-2 (1985)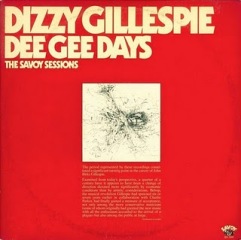 1 Tin Tin Deo
2 Birk's Works
3 We Love to Boogie
4 Lady Be Good
5 Love Me Pretty Baby
6 The Champ
7 I'm in a Mess
8 School Days
9 Swing Low Sweet Cadillac		play
10 Bopsie's Blues
11 Bopsie's Blues
12 I Couldn't Beat the Rap
13 Caravan
14 Caravan
15 Nobody Knows
16 The Bluest Blues
17 On the Sunny Side of the Street
18 Stardust					play
19 Time on My Hands
20 Blue Skies
21 Umbrella Man
22 Pop's Confessin'
23 Ooh-Shoo-Be-Doo-Bee
24 They Can't Take That Away from Me

Personnel:
Alto Saxophone – John Coltrane (tracks: 1 to 3)
Baritone Saxophone – Bill Graham (tracks: 7 to 24)
Bass – Bernie Griggs (tracks: 20 to 24), Percy Heath (tracks: 1 to 19)
Drums – Al Jones (tracks: 7 to 24), Art Blakey (tracks: 4 to 6), Kansas Fields (tracks: 1 to 3)
Guitar – Kenny Burrell (tracks: 1 to 3)
Piano – Wynton Kelly (tracks: 20 to 24)
Piano, Vibraphone [Vibes] – Milt Jackson (tracks: 1 to 19)
Tenor Saxophone – Budd Johnson (tracks: 4 to 6), John Coltrane (tracks: 1 to 3)
Trombone – J.J. Johnson (tracks: 4 to 6)
Trumpet – Dizzy Gillespie (tracks: 1 to 24)
Violin – Stuff Smith (tracks: 13, 14, 17 to 19)
Vocals – Freddy Strong (tracks: 3), Joe Carroll (tracks: 4, 7, 8, 15 to 17, 20 to 23),
 Melvin Moore (2) (tracks: 5, 10 to 12)

Original recordings produced by Dizzy Gillespie and Dave Usher. Reissue
 produced by Bob Porter.

When Detroiter David Usher and Dizzy Gillespie founded the Dee Gee record label, they might have had an inkling that their project could, and would, fail financially due to poor distribution, the conversion from 78s to LPs, and the heavy hammer of the taxman. They might have felt, but could not have imagined, that they would create some of the most essential and pivotal jazz recordings for all time, not to mention some of the last great sides of the pioneering bebop era. Gillespie's large ensembles brought to public attention the fledgling young alto and tenor saxophonist John Coltrane, such Detroiters as guitarist Kenny Burrell or pianist/vibraphonist Milt Jackson, and vocalists Joe Carroll, Freddy Strong and Melvin Moore. Considering the years -- 1951 and 1952 -- this was revolutionary breakthrough music from a technical and entertainment aspect, delightful music that has stood the test of time and displays the trumpeter in his prime as a bandleader. Of the three cuts with Coltrane, he swims behind Gillespie's horn and Jackson's vibes during the churning, Latin faced "Tin Tin Deo," and in tandem with the trumpeter for the short chorus of "Birk's Work's."
It's only a hint of Coltrane's genius to come. Joe Carroll is animated and jacked up during his many featured numbers, especially loose on the extrapolated "Lady Be Good," dour and all shook up on "I'm in a Mess," positively celebrating sophmoricism over the Asian piano stylings of Jackson for "School Days," giddy on a goofball take of "Blues Skies" that refers to water more than air, and down and out for "Nobody Knows" -- all of them true classics. On top of that, there's the spiky intro to the campy waltzing, troubadour chorused "Umbrella Man," the all time hit "Ooh-Shoo-Be-Doo Bee" which defines vocalese and scat, and Carroll's mock Louis Armstrong singing for "Confessin'." Moore's deep Billy Eckstine-like crooning takes center stage for the begging song "Love Me Pretty Baby" and two takes of "Bopsie's Blues." Freddy Strong's feature on "We Love to Boogie" with Coltrane and Burrell exemplifies the most ebullient good feelings always present on the Gillespie bandstand. Historically but unfairly lost in the shuffle of all of the virtuosity in these groups is baritone saxophonist Bill Graham, Gillespie's back-up catcher who took basic melodies and framed them in deep blues hues, strike after strike after strike. Violinist Stuff Smith's razor sharp tone is here for seven tracks, most noticeably on two clipped, Asian/Latin flavored versions of "Caravan," Gillespie's signature reading of "On the Sunny Side of the Street," and a hallmark adaptation of the ballad "Stardust." "The Champ," at nearly six minutes, is the ultimate flag waving bop icon, with drummer Art Blakey firing up an immortal three-horn front line of Gillespie, tenor saxophonist Budd Johnson, and trombonist J.J. Johnson, with Jackson on vibraphone.
Instrumentally concise, always with a harmonic depth and technical brilliance that punctuates bebop, and a recording technology enhanced from the '40s, Dee Gee Days will stand forever as one of the most important albums in jazz history, and belongs in every serious -- or whimsical -- jazz lover's collection -- period! ---Michael G. Nastos
Zmieniony (Czwartek, 09 Luty 2012 22:17)