Chick Corea – Three Quartets (1981)
Chick Corea – Three Quartets (1981)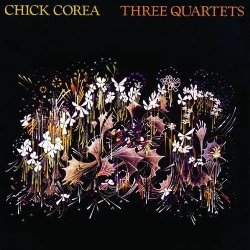 1	Quartet #1	10:15		
2	Quartet #3	9:41		
3	Quartet #2	7:09		
4	Part 1: Part 2	12:02		
5	Folk Song	5:51			       play
6	Hairy Canary	3:43
7	Slippery When Wet	6:02
8	Confirmation	6:17

Personnel: 
Chick Corea (piano); 
Michael Brecker (tenor saxophone); 
Eddie Gomez (bass);
Steve Gadd (drums).

Between the tides of Return To Forever and The Elektric Band, Chick Corea's recording projects focused on more intimate acoustic ensembles. Of these, the superb THREE QUARTETS is the best of the bunch. Recorded in 1981 at Corea's own Mad Hatter studio, it features the pianist at his creative best as well as his favorite partners Michael Brecker, Eddie Gomez and the inimitable Steve Gadd. Few other records of this period contain the powerful musical energy that was created when these four virtuosos came together.
The performances captured on this album are stunning. The complex "Quartet No. 1" offers a punchy melody that explodes into a furious solo by Brecker. The softer "Quartet No. 3" follows with dramatic chordal work by Corea and expressive solos by Brecker and Gomez. The epic "Quartet No. 2" is one of Corea's most dynamic works. The first section, a swinging ballad, is dedicated to the great Duke Ellington. The second, which features a mesmerizing solo by Gadd, is a hard swinger for John Coltrane. Bonus tracks include Corea's unforgettable "Hairy Canary" and an amazing Gadd/Brecker duet on Charlie Parker's "Confirmation." ---cduniverse.com
This encounter between Chick Corea (sticking to acoustic piano), tenor saxophonist Michael Brecker, bassist Eddie Gomez, and drummer Steve Gadd lives up to one's expectations. The original program featured three lengthy "quartet" pieces, including sections dedicated to Duke Ellington and John Coltrane. The CD reissue adds four briefer pieces that were previously unissued, including an unaccompanied Brecker workout on "Confirmation" that would be perfect for "blindfold" tests. This blowing date is highly recommended for all true jazz fans. ---Scott Yanow, AMG
Three Quartets is a jazz album released in 1981 by American jazz pianist Chick Corea, in collaboration with saxophone giant Michael Brecker, bassist Eddie Gomez, and drummer Steve Gadd. All compositions are by Corea who wanted to create an album of quartets like the many string quartets of the Baroque, Classical, Romantic, and Impressionist periods; however, he would use jazz instrumentation.
Quartet No. 1 uses a 1-chord (G altered) solo vamp over a rock beat in 3/4, and a repeated theme that uses stacked fourths. The second track, Quartet No. 2 (Part I) is a ballad, dedicated to jazz pioneer Duke Ellington, incorporating many of the Western classical harmonies and tensions that Ellington used in much of his playing. Quartet No. 2 (Part II) is dedicated to jazz saxophone legend John Coltrane. ---wiki
download: uploaded yandex 4shared mediafire solidfiles mega zalivalka cloud.mail.ru filecloudio anonfiles oboom
Zmieniony (Poniedziałek, 18 Sierpień 2014 21:38)