Cassandra Wilson ‎– Live (1991)
Cassandra Wilson ‎– Live (1991)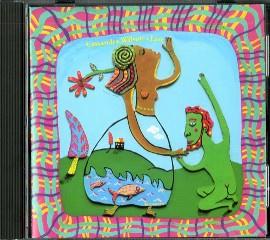 1 	Don't Look Back		5:55
2 	Soul Melange	11:35
3 	'Round Midnight		7:58
4 	My Corner Of The Sky	9:46
5 	Desperate Move	12:04
6 	Body And Soul	9:31
7 	Rock This Calling	12:17

Cassandra Wilson - Vocals
John Weidman - Piano, Synth.
Kevin Bruce Harris - Electric Bass
Mark Johnson - Drums

Singer Cassandra Wilson was still searching for her own style during the time of this live concert. Accompanied by keyboardist James Weidman, electric bassist Kevin Bruce Harris and drummer Mark Johnson, Wilson performs four of her originals (none of which are too memorable), Steve Coleman's "Desperate Move" and a couple of standards ("'Round Midnight" and "Body and Soul"). This forgettable (and somewhat boring) set is strictly for Cassandra Wilson completists; more general listeners are advised to get her more interesting mid-'90s recordings instead. ---Scott Yanow, AllMusic Review
The session was recorded at Amerika Haus in Munich in April of 1991 .
Cassandra Wilson has always been regarded, and quite rightly, as a somewhat avant garde singer and it is in this mode that she performs this set. The backing trio is excellent and although their performance could also be classed as contemporary, they are always interesting. John Weidman for instance solos at length on Round Midnight before Cassandra takes over this Thelonius Monk composition.
Cassandra also had a hand in writing no less than four of the seven numbers played. Few of her contemporaries would attempt such a feat. The total playing time of 69 minutes indicates an average playing time per track of nearly ten minutes, which is unusual in itself! Cassandra should not be compared to the average, she has a style all of her and an uncompromising attitude towards her own performance.
The best track for me is Body & Soul, it is such magnificent tune in any case and Cassandra uses all her inventive skills to create a unique version. To Cassandra Wilson fans this CD is a must to add to their collection, for those not familiar with her work it is a good place to start. ---Don Mather, musicweb-international.com
download (mp3 @320 kbs):