Benny Goodman – The King of Swing (2002)
Benny Goodman – The King of Swing (2002)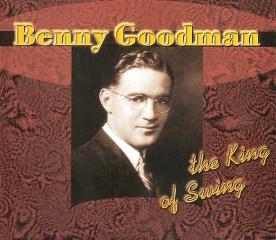 01. King Porter Stomp [1935]
02. Sometimes I'm Happy [1935]
03. Swingtime in the Rockies [1936]
04. Bugle Call Rag [1936]
05. It's Been So Long [1936]
06. Peckin' [1937]
07. Sing, Sing, Sing [1937]
08. If Dreams Come True [1937]
09. Roll 'Em [1937]
10. Don't Be That Way [1938]
11. Wrappin' It Up [1938]
12. Bach Goes to Town: A Fugue in Swing Tempo [1938]
13. And the Angels Sing [1939]
14. Good-Bye [1935]

Benny Goodman (clarinet)
Helen Ward (vocals)
Fletcher Henderson, Jimmy Mundy, David Rose, Edgar Sampson, Mary Lou Williams (arranger)
Art Rollini, Vido Musso (tenor saxophone)
Harry James, Bunny Berigan, Ziggy Elman, Nate Kazebier (trumpet)
Murray McEachern (trombone)
Gene Krupa (drums).

Recorded between July 1, 1935 & February 1, 1939.

Benny Goodman's The King of Swing is part of RCA's mid-line series Bluebird's Best. This is a solid collection of original hits Goodman recorded for Bluebird in the mid- to late '30s. While there aren't any surprises here, the disc contains well-known hits such as the Gene Krupa/Benny Goodman tour de force "Sing, Sing, Sing." Unfortunately, the liner notes do not contain a complete personnel listing, but do include exact recording dates, soloists, and arrangers, including Helen Ward, Harry James, Mary Lou Williams, Bunny Berigan, and Krupa. The King of Swing is a perfect introduction to Benny Goodman from the prime era of the big bands. ---Al Campbell, Rovi
download (mp3 @320 kbs):
yandex 4shared mega mediafire cloudmailru uplea