Benny Goodman - Swings Again (2013)
Benny Goodman - Swings Again (2013)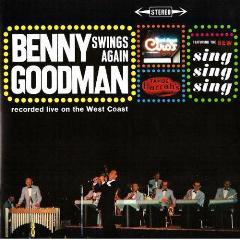 01 Air Mail Special Charlie Christian / Benny Goodman / Jimmy Mundy 6:23
02 Slipped Disc Benny Goodman 4:09
03 Gotta Be This Or That Sunny Skylar 5:15
04 Where Or When Lorenz Hart / Richard Rodgers 2:08
05 I Want To Be Happy Irving Caesar / Vincent Youmans 5:12
06 After You've Gone Henry Creamer / Turner Layton 5:43
07 Waiting For The Robert E. Lee L. Wolfe Gilbert / Lewis F. Muir 2:11
08 Bill Bailey Won't You Please Come Home Hughie Cannon 2:02
09 Sing, Sing, Sing (With A Swing) Louis Prima 9:37
10 St. James Infirmary Traditional; arr. Joe Primrose 4:49
11 Air Mail Special #2 Charlie Christian / Benny Goodman / Jimmy Mundy 5:57
12 My Baby Done Tol' Me Flip Phillips 4:36
13 I Want To Be Happy #2 Irving Caesar / Vincent Youmans 4:36
14 Runnin Wild Arthur Gibbs /Joe Grey / Leo Wood 2:47
15 Gotta Be This Or That Sunny Skylar 6:53
16 After You've Gone Henry Creamer / Turner Layton 4:18

Benny Goodman - Clarinet, vocals
Jack Sheldon - Trumpet
Flip Phillips - Tenor sax
Red Norvo - Vibes
Murray McEachern - Trombone
Jerry Dodgion - Alto sax
Russ Freeman - Piano
Jimmy Wyble - Guitar
Red Wootten - Bass
John Markham - Drums
Maria Marshall - Vocals (tracks 7-8)

Like a former rock star, Benny Goodman continued long after the swing era performing his greatest hits. His repetitiveness is confirmed by the fact that four of the seven bonus tracks (numbers 10 to 16, recorded at various venues) are the same as tunes on the original LP, which was recorded at Ciro's in Hollywood. Most of this album uses a ten-piece group, which spans the gap between Benny's big band and his smaller combos. On these recordings from 1959 and 1960, there are occasional hints of Goodman not being quite as agile as he used to be. Can you believe that the King of Swing sometimes sounds breathless? Yet he is still the main soloist and can achieve some high-flying improvisations.
In fact Benny's dominance tends to reduce the contributions of his talented sidemen. For instance, it would have been nice to hear more solos from trumpeter Jack Sheldon, although he gets some chances to shine on such tracks as the first version of Air Mail Special, although the riffing background tends to get in the way. On the other hand, vibist Red Norvo gets plenty of solos, which he executes with his usual dexterity. And saxists Flip Phillips and Jerry Dodgion also make valuable contributions.
The band swings with the same ease as Goodman's earlier groups, but it would have been healthy to have included more new tunes instead of the (admittedly) good-old-good ones. Benny even revives Sing, Sing, Sing, a piece which is indelibly associated one drummer on one special occasion. John Markham does his best, although he can't match the excitement of Gene Krupa's original show-stopper. But Goodman's clarinet solo wittily quotes And The Angels Sing as well as containing echoes of his Jewish background.
The personnel listings on the sleeve are confusing, as they fail to list the musicians on the bonus tracks (10 to 18). Red Norvo is listed as out on 4 and 6 but I can hear a vibraphone on both these tracks. My Baby Done Tol Me has vocals by an unnamed singer, whose style is nearer R & B than swing. Despite these flaws, if you loved Benny's original recordings you will probably enjoy this album, even though it consists mainly of reruns. ---Tony Augarde, musicweb-international.com
download: uploaded yandex mediafire solidfiles mega zalivalka filecloudio anonfiles oboom