Kahil El'Zabar with Lester Bowie and Malachi Favors at Saalfelden 1987
Kahil El'Zabar with Lester Bowie and Malachi Favors at Saalfelden 1987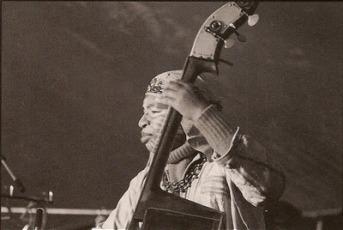 01. part one 45:37 
02. part two 14:57 
03. encore 07:37  

Line Up: Kahil El'Zabar - percussion and voice
Lester Bowie - trumpet 
Malachi Favors Maghostut - bass and percussion  

Saalfelden Jazz Festival, Saalfelden, Austria
, Aug 28, 1987.
Kahil El'Zabar is one of Chicago's jazz treasures. A member of the AACM, music holds no boundaries for El'Zabar, who has not only played alongside a myriad of jazz greats, but was in the bands of Stevie Wonder, Cannonball Adderley, Dizzy Gillespie, and Nina Simone (who he also designed clothes for), as well as recording with rock bands like Sonia Dada and Poi Dog Pondering and heading up the jazz/house outfit the JUBA Collective. He was also chosen to do the arranging for the stage performances of The Lion King. This is in addition to leading his own longstanding Ethnic Heritage Ensemble and Ritual Trio.
The son of a drummer, El'Zabar took to music at an early age, and was playing with members of the Art Ensemble of Chicago by his teens. While attending college in the early '70s, El'Zabar was given the opportunity to study mime with Marcel Marceau in Paris, but instead opted to use the money to study in Ghana. He started the Ethnic Heritage Ensemble upon his return in 1973, and while the lineup has changed over time, they are still an active group. He has also released a great many albums under his own name, including a long-running relationship with Chicago's great Delmark label. Kahil El'Zabar is not just a master percussionist, either. His efforts as a musician, educator, and community leader led to his being named "Chicagoan of the year" in 2004 by the Chicago Tribune. --- Sean Westergaard, Rovi
download: yandex 4shared solidfiles mediafire
Zmieniony (Poniedziałek, 29 Grudzień 2014 18:08)