Shakatak - In the Blue Zone (2019)
Shakatak - In the Blue Zone (2019)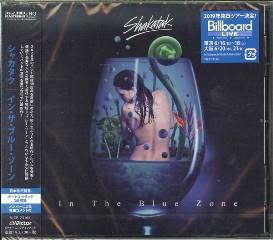 1 	To Be Loved 	
2 	Making My Dreams Come True 	
3 	Back To The Heart Of It 	
4 	Ready To Take A Chance
5 	High Town 	
6 	The Blue Zone
7 	Soul Paradise 	
8 	Love Light 	
9 	While The City Sleeps 	
10 	Kyoto Dreaming 	
11 	Forever Rio 	
12 	Breathe 	
+
13 	Dance In Your Eyes 	
14 	Slinky

Backing Vocals – Debby Bracknell
Bass – George Anderson
Drums – Roger Odell
Guitar – Alan Wormald
Keyboards – Bill Sharpe, Jamie Odell
Saxophone – Derek Nash
Vocals, Lead Vocals – Jill Saward
+
Trumpet – Till Brönner(4)
Vocals - Liane Carroll (6)

Great new album from Shakatak, quite how they manage to remain so prolific and produce a consistent quality of new material whilst combining recording with a hectic touring schedule never ceases to amaze me.
In the Blue Zone has a laid-back feel with lots of great solos and some adventurous vocal overdubs, Jill Saward is on fine form as ever, along with the rest of the band and guest musicians.
Two songs stand out for me - 'Dance In Your Eyes' which is a contemporary twist on their early 80s sound, and the radio-friendly 'Making My Dreams Come True', both of which should be on all soul/jazz radio station playlists.
A lovely album for chilling late at night, on a Sunday afternoon or any time at all. Not to be missed! ---In the Blue Zone, amazon.com
UK group Shakatak has recorded a number of top twenty singles and enjoyed a long career performing around the world, with regular stops in UK, Europe and the Far East. Because of the nature of their music, their fan base is one that is far reaching while always retaining an 'underground element'. This paradox sees the band, who are known primarily as serious jazz/funk musicians, enjoying both high 'cult' status and instant recognition as a household name. ---thebeijinger.com
download (mp3 @320 kbs):
yandex mediafire ulozto gett bayfiles