Art Pepper – Blues For The Fisherman Unreleased Art Pepper Vol. VI (1980)
Art Pepper – Blues For The Fisherman Unreleased Art Pepper Vol. VI (1980)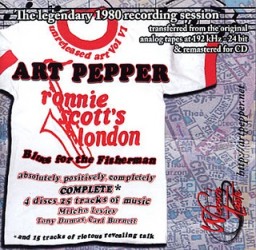 CD1:
01 – Blues For Blanche
02 – Talk Intros, Cat People
03 – Ophelia
04 – Talk Thank You For Coming
05 – Make A List
06 – Talk About Make A List
07 – Sad A Little Bit
08 – Talk Clarinet
09 – Anthropology				play
10 – Red Car
11 – Blues For Bould

CD2
01 – Untitled #34
02 – Talk Weird Noise
03 – A Song For Richard
04 – Talk Rhythm-A-Ning Intro
05 – Rhythm-A-Ning
06 – Talk Rita San Intro
07 – Rita San false start
08 – Rita San					play
09 – What's New
10 – I'll Remember April
11 – Talk Good Night

CD3:
01 – True Blues
02 – Talk- Band & Ophelia Intros
03 – Ophelia
04 – Make A List
05 – Stardust
06 – Talk- 3 Out Of 4; False Start- Red Car
07 – Red Car
08 – Talk- About Straight Life		
09 – Straight Life				play

CD4:
01 – Untitled #34
02 – Talk Reminiscing
03 – The Trip
04 – Talk Accident Prone
05 – I'll Remember April
06 – Talk Goodbye Intro
07 – Goodbye + Talk A Great Song
08 – In A Mellow Tone				play
09 – Talk Clarinet
10 – Blues For The Fisherman + Talk I

Art Pepper - alto sax 
Milcho Leviev - Piano, 
Tony Dumas - Bass, 
Carl Burnett - Drums. 
"The Twelve Bars of the Decade." Blues for the Fisherman was hailed by one jazz journalist as just that when four of these tracks were released in the U.K. in 1980 by Mole Jazz. That LP remained at the top of the British jazz charts for well over a year, so Mole eventually released a second album from the same session. Fans all over the world have worn those LPs out and have been clamoring for 30 years to hear it all, everything that happened during those two historic nights at Ronnie Scott's, part of Art Pepper's first-ever tour of Europe.
Laurie Pepper, the alto saxophonist's widow and owner of Widow's Taste Records, says there is a logic to releasing everything. "Art was a storyteller," explains Laurie. "Every tune was a vehicle, a way for him to express his life of pain and glory. He loved to talk about it, too. Communication, soul to soul, was what he aimed for. When we listen to these sets, we hear a narrative: In the music and between the tunes Art keeps us, the audience, informed. He lets us track the skill, persistence, anguish, and exhilaration of the process of performing, the story of an artist at work. From the stage he tells us what is and isn't working as he sees it at the moment. He reveals how nervous he is and how grateful for a sympathetic crowd to whom he jokes, complains, explains, and reminisces."
The band features Milcho Leviev, "The Bulgarian genius" (Arnaldo DeSouteiro) and frequent Pepper sideman. He was putative leader of this session. (Art was then under contract to Galaxy Records, which would not permit him to record as leader for any other label, however obscure). Also in the band: the young, exciting Tony Dumas on bass and Art's favorite drummer, Carl Burnett.
At Mole's behest, Art plays some tunes less usual for him in 1980: "Stardust," "Rita San," "Untitled #34," "Blues for the Fisherman." He also plays familiar favorites, "What's New," "Goodbye," "I'll Remember April," "A Song for Richard," "Rhythm-A-Ning," and his own: "The Trip," "Ophelia," "True Blues, "Red Car," "Make a List," and of course "Straight Life" (while announcing it Art plugs his autobiography of the same name, about to be released in England later that year). And he plays clarinet, as well, on "Anthropology" and "In a Mellow Tone." Every set at Ronnie's was a little piece of art, a composition, lovingly constructed for an eager and perceptive audience.
The 4-CD set, with 25 tracks plus bonus tracks of talk, was transferred from original analog tapes at 192 kHz and remastered for CD. The booklet includes Laurie's personal photos and 24 pages of notes describing Art's emotions and preoccupations, how he felt about the situation's pressures and delights. She talks about "The Fisherman," and, as usual, she gives us her own amused, nonplussed, and dazzled take on all of it.
Laurie Pepper launched the Widow's Taste label in 2006 in order to introduce Art to a generation who "may not know how soulful jazz can be," to offer an alternative to the shoddy wares of bootleggers, and to satisfy the blessedly insatiable desires of Art's knowledgeable fans. Using previously unreleased sessions recorded by radio stations or picked up surreptitiously by fans, she's inspired to keep going by those fans and by the overwhelming praise of critics. --- Terri Hinte, allaboutjazz.com
download:
Zmieniony (Poniedziałek, 21 Lipiec 2014 16:15)