Etta James – Love's Been Rough On Me (1997)
Etta James – Love's Been Rough On Me (1997)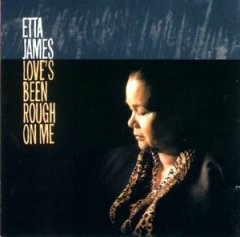 01. Rock, The 03:33
02. Cry Like a Rainy Day 05:21
03. Love's Been Rough on Me 03:09      play
04. Love It or Leave It Alone 05:28
05. Don't Touch Me 03:57
06. Hold Me (Just a Little Longer Tonight) 03:47
07. If I Had Any Pride Left at All 03:49
08. I Can Give You Everything 03:15    play
09. I've Been Loving You Too Long 04:20
10. Done in the Dark 04:19

Etta James- (Vocals); 
Don Potter- (Acoustic Guitar); 
Dann Huff, Josh Sklair, Brent Rowan- (Electric Guitar); 
Paul Franklin- (Steel Guitar); 
Joe McGlohon, Jim Horn, Sam Levine , Chris McDonald, Mike Haynes- (Horns); 
Barry Beckett, Steve Nathan- (Keyboards); 
Eddie Bayers- (Drums); 
Terry McMillan- (Percussion); 
Curtis Young, Dennis Wilson , Donna McElroy, John Wesley Ryles, 
Vicki Hampton, Louis Dean Nunley, Yvonne Hodges- (Background Vocals).

Etta James was one of the greatest blues, jazz and soul singers of the 50s and 60s. At the age of 17 she made her breakthrough when "The Wallflower" topped the R&B chart. She had more success after signing to Chess Records: "All I Could Do Was Cry" was a minor hit, before "At Last" reached No.2 on the R&B chart and No.22 in the pop chart. It went on to become her signature tune and has been covered by many of the greatest soul and jazz singers, including Stevie Wonder, Nat King Cole and Ella Fitzgerald. More R&B hits followed, such as "Trust in Me", "Something's Got a Hold on Me" and "Stop the Wedding". In 1967, "Tell Mama" was a crossover success (reaching No.23 in the pop charts), and "Security" also did well.
"Love's Been Rough on Me" is a terrific latter-day album from Etta James, capturing her at the peak of her powers. James' voice has diminished only slightly over the course of her career, and she knows how to make such warhorses as "I've Been Loving You Too Long" sound fresh. She also invests contemporary music, including John Berry's contemporary country hit "If I Had Any Pride Left at All," with real soul. The result is a record that delivers the real goods with grace and style. ---Leo Stanley, AllMusic Review
download (mp3 @320 kbs):
yandex mediafire ulozto gett solidfiles bayfiles
Zmieniony (Środa, 20 Styczeń 2021 12:41)