Henry Thomas ‎– Ragtime Texas (Complete Recorded Works - 1927 to 1929 - In Chronological Order) (1974)
Henry Thomas ‎– Ragtime Texas (Complete Recorded Works - 1927 to 1929 - In Chronological Order) (1974)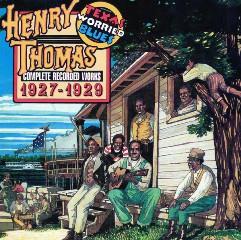 1 	–Henry Thomas "Ragtime Texas" 	Fishing Blues 	2:43
2 	–Henry Thomas "Ragtime Texas" 	Old Country Stomp 	2:52
3 	–Henry Thomas "Ragtime Texas" 	Charmin' Betsy 	3:03
4 	–Henry Thomas "Ragtime Texas" 	Lovin' Babe 	3:07
5 	–Henry Thomas "Ragtime Texas" 	Railroadin' Some 	3:17
6 	–Henry Thomas "Ragtime Texas" 	Don't Leave Me Here 	3:27
7 	–Henry Thomas "Ragtime Texas" 	The Little Red Caboose 	2:48
8 	–Henry Thomas "Ragtime Texas" 	Bob McKinney 	2:54
9 	–Henry Thomas "Ragtime Texas" 	Honey, Won't You Allow Me One More Chance ? 	2:51
10 	–Henry Thomas "Ragtime Texas" 	Run, Mollie, Run 	2:52
11 	–Henry Thomas "Ragtime Texas" 	Shanty Blues 	2:56
12 	–Henry Thomas "Ragtime Texas" 	Woodhouse Blues 	2:48
13 	–Henry Thomas (Ragtime Texas) 	John Henry 	2:46
14 	–Henry Thomas (Ragtime Texas) 	Cottonfield Blues 	2:48
15 	–Henry Thomas 	Arkansas 	2:48
16 	–Henry Thomas "Ragtime Texas" 	The Fox And The Hounds 	2:37
17 	–Henry Thomas "Ragtime Texas" 	Red River Blues 	3:06
18 	–Henry Thomas "Ragtime Texas" 	Jonah In The Wilderness 	2:55
19 	–Henry Thomas "Ragtime Texas" 	When The Train Comes Along 	2:57
20 	–Henry Thomas "Ragtime Texas" 	Bull Doze Blues 	3:25
21 	–Henry Thomas "Ragtime Texas" 	Don't Ease Me In 	3:00
22 	–Henry Thomas "Ragtime Texas" 	Texas Easy Street 	3:08
23 	–Henry Thomas "Ragtime Texas" 	Texas Worried Blues 	3:17

Henry Thomas - Vocals, Guitar, Pipe [Quills]

There is something ineluctably joyous about the music of Henry Thomas – an exuberance, an ebullience that is utterly infectious and captivating. The music is archetypically American, figuratively capturing the perpetual motion of a hobo Texas songster and offering a panorama of vernacular song from the 1870s to the late 1920s. Among the twenty-three recordings he left for posterity are religious songs, ballads, reels, blues, and "rags".
By the time he made his recordings he was in his early fifties and thus hardly representative of current musical trends, but blues was one of the styles the record companies were seeking and Henry Thomas obliged with blues numbers that, with hindsight, appear to represent the genre at various stages of its development. There are one-line blues verses (one statement repeated three times as in Texas Worried Blues) that appear to be related to the "one-verse songs" collected by folklorist Howard Odum between 1904 and 1909.
His use of reed-pipes (also called panpipes, quills, or the syrinx) points to an earlier time period and may ultimately be a link to African tradition as the primitive instrument is common there. For an instrument that was frequently remembered by first generation songsters and former slaves, it is surprising that the quills do not appear on more early recordings. In fact, the row of quills (as opposed to a single "quill" with several holes like a fife) is, as far as I can ascertain, unique to Henry Thomas on commercial "Race Recordings".
The recordings gathered here will continue to fuel the speculation about the origin of the blues, the repertories of nineteenth century songsters and what their music may have sounded like, and the place of primitive instruments like the quills in that musical landscape. As intriguing as the scholarly questions regarding origins may be, the true measure of Henry Thomas and his legacy is the timeless quality of the music itself. The rock bands Canned Heat and the Grateful Dead have demonstrated that his songs are not so archaic as to be excluded from the "Top Ten" charts, and songwriters like Bob Dylan and John Sebastian have constructed some fine work on the ancient foundation left by the Texas songster. ---thedocumentrecordsstore.com
download (mp3 @320 kbs):
yandex mediafire ulozto gett bayfiles