Roadcase Royale - First Things First (2017)
Roadcase Royale - First Things First (2017)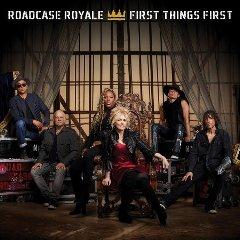 01. Get Loud
02. Not Giving Up
03. Hold On To My Hand
04. Even It Up
05. Cover Each Other
06. The Dragon
07. Insaniac
08. These Dreams
09. Mind Your Business (Live)
10. Never Say Die

Liv Warfield - Vocals
Nancy Wilson - Guitars
Ryan Waters - Guitars
Dan Rothchild - Bass
Ben Smith - Drums
Chris Joyner – Keyboards

With Heart split up, Nancy Wilson has recruited Liv Warfield, who sang with Prince in New Power Generation, and Prince protege, guitarist Ryan Waters, to join her and the Heart rhythm section in a new outfit -- Roadcase Royale.
On "First Things First," the band shows off its sound, an R&B/classic rock blend that really connects on songs like "Get Loud," the groove-driven female empowerment opener -- the getting loud isn't the guitars, it's the women's voices.
Roadcase Royale takes a couple of chances, doing a pair of Heart songs -- "Even It Up," which gets funkified and stretched out, and a gorgeous, hushed "These Dreams," on which Warfield manages to put her own soulful stamp on one of Ann Wilson's signature songs.
A live track, "Mind Your Business," shows that Roadhouse Royale is really a band, not just an assemblage of players, and with its slinky soul strut crossed with Nancy's guitar, it demonstrates that the R&B/classic rock mix works just fine. ---L. Kent Wolgamott, journalstar.com
In the wake of a perfect storm, Heart's co-founder Nancy Wilson and Liv Warfield former member of Prince's New Power Generation are currently combining forces to create the core of Roadcase Royale.
Nancy Wilson, the award winning iconic singer songwriter/guitarist and Hall Of Fame inductee, showcases a beautifully edgy mezzo soprano voice that really captivates those looking for a good dose of classic rock.
Liv Warfield, Portland's most soulful singer, has been making a way for herself since 2006 when she self-released her very first album. She has been associated with Prince's New Power Generation, Al Green, and B.B. King, and also received a Soul Train award for Best New Artist (2014). Her R&B style mixes like yin and yang with Wilson's rock style; both musicians gloriously display organic artistry within their genre.
Alongside them are lead guitarist Ryan Waters and former Heart members Dan Rothschild (Bass), Ben Smith (Drums), and Chris Joyner (Keys).
Their first album, First Things First, is a smorgasbord of lyrical and musical 'soul-food.' The intensely funky sound of syncopation mixed with the distorted electric guitar really thunderclap to produce a most intriguing sound.
The beauty in the way they placed the songs on this album parallels the different members of this group. They all have something different to bring to the table, and that shines through on this album. ---guitargirlmag.com
download (mp3 @320 kbs):
yandex mediafire uloz.to mega 4shared cloudmailru gett
Zmieniony (Czwartek, 05 Październik 2017 12:08)