Louise Hoffsten - L (2015)
Louise Hoffsten - L (2015)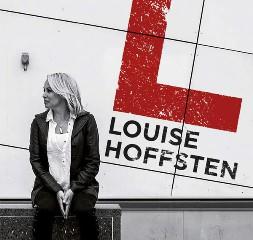 1 	Lucky Me
Backing Vocals – Alessandra Gunthardt
Bass, Guitar – Johan Glössner
Drums – Bobo Ölander
Piano – Oskar Appelqvist

2 	If You Wanna See A Rainbow
Bass, Guitar, Backing Vocals – Johan Glössner
Drums – Bobo Ölander
Harmonica – Louise Hoffsten
Keyboards – Oskar Appelqvist

3 	My Dignity
Backing Vocals – Peter Kvint, Sharon Vaughn
Bass, Guitar – Johan Glössner
Drums – Bobo Ölander
Keyboards – Oskar Appelqvist

4 	I Feel Like Running
Backing Vocals – Alessandra Gunthardt
Bass, Guitar – Johan Glössner
Drums, Keyboards – Oskar Appelqvist

5 	Hold The Light
Backing Vocals – Sharon Vaughn
Bass, Guitar – Johan Glössner
Drums – Bobo Ölander
Keyboards – Oskar Appelqvist

6 	Starhead And Scarecrow
Bass, Guitar, Backing Vocals – Johan Glössner
Drums, Backing Vocals – Oskar Appelqvist

7 	Out Of Words
Backing Vocals – Alessandra Gunthardt, Sandra Bjurman
Bass, Guitar – Johan Glössner
Drums, Keyboards – Oskar Appelqvist

8 	Always On The Run
Backing Vocals – Leif Larsson
Bass, Keyboards – Johan Glössner
Keyboards – Oskar Appelqvist

9 	Not Bulletproof
Backing Vocals – Alessandra Gunthardt
Bass, Guitar, Backing Vocals – Johan Glössner
Drums – Bobo Ölander
Keyboards – Oskar Appelqvist

10 	Other Side Of The Glass
Bass, Keyboards, Backing Vocals – Johan Glössner
Drums – Bobo Ölander
Keyboards – Oskar Appelqvist

Louise Hoffsten is a swedish blues and rock singer. Born in the small Swedish town Linköping and with a jazz trumpet playing father, Gunnar Hoffsten, she was on to music early.
Her career started as singer in the popular Swedish band Clas Yngström & Sky High in the mid 80's. After she left Sky High she started her solo career.
Supported by one of Sweden's most popular rock band at the time, Wilmer X, she released her debut album 1987, Genom Eld och Vatten. This was rewarded as the best debut album that year. She continued recording blues rock albums in swedish for some years.
In 1993 she switched to a major label company and issued a new album with English lyrics, Rhythm & Blonde. After that the career declined and she also became sick in MS. After several years fighting the disease and having a family she returned 2004 with an album recorded in Memphis, Knäckebröd Blues, on the Memphis Int'l label. 2005 the next album, From Linköping to Memphis was released.
Hoffsten has also been acting in swedish movies, she has also recorded a jazz/folk song album and lead a children program on the Swedish radio. ---last.fm
download (mp3 @320 kbs):