Down Home Blues 1943-1953 - New York & The East Coast States CD2 (2007)
Down Home Blues 1943-1953 - New York & The East Coast States CD2 (2007)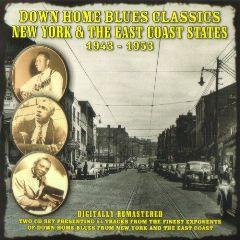 01. Jack Dupree - Highway Blues (Walking Down The Highway)
02. Ralph Willis - Lazy Woman Blues
03. Brownie McGhee - Tell Me Baby
04. Doug Quattlebaum - Don't Be Funny Baby
05. Alex Seward & Louis Hayes - In Love Blues
06. Little David - You're Gonna Weep And Moan
07. Leroy Dallas - Good Morning Blues
08. Skoodle-Dum-Doo & Sheffield - West Kinney Street Blues
09. Dennis McMillon - Goin' Back Home
10. Blind Willie McTell - Kill It Kid
11. Robert Lee Westmoreland Good Looking Woman
12. Gabriel Brown - Cold Love
13. Marylin Scott - Let's Do The Boogie Woogie
14. Julius King - If You See My Lover
15. Brownie McGhee - Confusin' Blues
16. Ralph Willis - Goodbye Blues
17. Carolina Slim - One More Drink
18. Curley Weaver - Trixie
19. Dan Picket - You Got To Do Better
20. Jack Dupree - Drunk Again
21. Leroy Dallas - I'm Going Away
22. Julius King - I Want A Slice Of Your Pudding
23. Boy Green - Play My Juke Box
24. Big Boy Ellis - Dices Dices
25. Brownie McGhee - Bottom Blues
26. Alex Seward & Louis Hayes - Crooked Woman Blues
27. Jack Dupree - Shim Sham Shimmy

Down Home Blues Classics – New York & The East Coast 1948-1954, as the notes state, "emphasizes the contribution to post-war blues made by singers from the Southeast and the Mid Atlantic states where many gravitated to New York. These performers tended to prefer a lighter and more melodic style than those from the Mississippi Delta who subsequently brought the blues to Chicago and Detroit." The bulk of these recordings, in fact, were recorded in New York.
Many of the names here will be familiar to collectors including pre-war heavyweights like Blind Willie McTell, Curley Weaver and Brownie McGhee. McTell is still magnificent on these 1949 sides for Regal and Atlantic revisiting one of his finest numbers,"Love Changing Blues", plus the ragtime flavored "Kill It Kid" and "Talkin' To You Mama." McTell's long time partner Curley Weaver also transitioned into the post-war era in fine form as he demonstrates on a remake of the lovely "Some Rainy Day" and displays some deft ragtime guitar on "Trixie." We're also treated to a half dozen well chosen sides by Brownie McGhee with partner Sonny Terry sounding more spontaneous and livley then some of their later recordings which were geared to the white folk crowd. Indeed it's important again note that the music here was recorded before the folk blues boom; it was music created by and for African-Americans.
One of the pleasures of this series has been the spotlight on lesser known artists and this collection is chock full of fine long forgotten performers who are little known outside of the serious blues collector. We get generous helpings by artists such as Ralph Willis, Leroy Dallas, Carolina Slim, Gabriel Brown, Alex Seward, Dan Pickett among many others. Husky voiced Leroy Dallas cut only eight sides, four of which are included, and sounds exuberant in a jumping small band combo with Brownie McGhee and pianist Wilbert "Big Chief" Ellis on "Jump Little Children" and "I'm Goin Away." Ellis is one of the few piano players included and sounds marvelous on "Dices Dices" sporting his pounding barrelhouse piano. Ellis waxed seven sides between 1945-1947 and it's a shame none of his other numbers are included. He did cut a fine self titled record for Trix in 1977 that's well worth tracking down.
As Paul Garon notes, the influence of the popular Blind Boy Fuller looms large on many of these recordings. There's many raggy, Fuller influenced guitar players such as the wonderful Julius King who's entire four song output is here including the jaunty "I Want A Slice Of Your Pudding" replete with kazoo. The mysterious Boy Green cut only two sides in 1944, both included, and bears a strong Fuller influence particularly on the infectious rag "Play My Juke Box." Carolina Slim seems to draw influence from Fuller and Lightnin' Hopkins while rough voiced singer Robert Lee Westmoreland plays a National Resonator like Fuller on his two recorded sides, covering Hopkins on a slide driven version of "Hello Central, Give Me 209." Other fine guitar players include the shadowy Dennis McMillon who's deft finger picking on "Paper Wooden Daddy" is a standout and the remarkable Dan Pickett, a long time favorite of collectors, who synthesized a number of early guitar styles to create his own, and had an exciting, rapid fire vocal delivery showcased on an update of Buddy Moss' "Ride To A Funeral In A V-8."
As usual with Boulevard Vintage sound is quite good and the notes very informative. It should also be noted that last year JSP issued the 4-CD box Shake That Thing!: East Coast Blues 1935-1953, which can be seen as a companion set, and has the complete recordings of Gabriel Brown, Dan Pickett and Ralph Willis. Boulevard Vintage also has 4-CD sets of Chicago and Texas blues and most recently 2-CD sets focusing on Memphis & The South and California & The West Coast that are equally good. ---Jeff, sundayblues.org
download:  uploaded yandex anonfiles 4shared solidfiles mediafire mega filecloudio nornar