Kenn Lending Blues Band - Heartache Motel (1993)
Kenn Lending Blues Band - Heartache Motel (1993)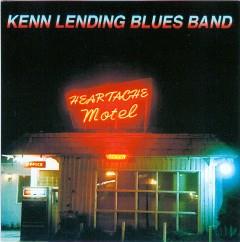 1 	Just One Night 	4:45
2 	I Don't Need Nobody 	3:39
3 	Let's Love And Still Be Free 	5:50
4 	Sometimes It's Hard 	4:55
5 	I Wish I Was A Poet 	4:04
6 	Lost You Forever 	7:46
7 	Let Me Play With Your Poodle	3:39
8 	I Want To Be Free 	6:14
9 	Sunday Morning 	5:08
10 	Automobile Blues	4:36
11 	Roadlife 	4:51
12 	All I Know 	3:58
13 	The Saddest Feeling 	7:07
14 	I Had A Dream Last Night 	4:42
15 	When You Saw Me Cry 	3:56

Bass – Svenni Svafnisson
Drums – Frank Larsen
Guest, Soprano Saxophone, Accordion – Steen Vig (tracks: 15)
Guest, Tenor Saxophone – Anders Gaardmand (tracks: 2, 5, 9, 12), Steen Vig (tracks: 3, 15)
Guitar [All Guitars], Vocals – Kenn Lending
Keyboards, Grand Piano – Henning Verner 

Kenn Lending Blues Band was formed in November 1980, by the Danish singer and guitarist Kenn Lending. Kenn had already been very active, in several reputable Danish groups, since 1973. But forming his own blues band, fulfilled a dream, that he had, since he saw T Bone Walker live on stage in 1968.
Already a year before Kenn Lending formed his band, he started his well known partnership with the legendary American blues pianist and -singer Champion Jack Dupree, who lived in Hannover, Germany. This partnership, that through the years turned into a very close friendship, lasted until "The Champ" past away in January 1992.
The Duo did over 1000 concerts together in 35 states and countries, including a seven week tour in USA and Canada in 1991. They also appear together on at least 19 different albums. Three of the albums was recorded in New Orleans, for Rounder Records in 1990 and 1991, in connection with their performances on 'New Orleans Jazz & Heritage Festival'. One of these albums 'Forever and Ever', received the WC Handy Award for the best traditional album in 1991.
Even though the relationship with Champion Jack Dupree had first priority, Kenn used all his spare time, making his band a strong and kicking blues band. They are known as a hardworking band, in the clubs and festivals all over Denmark, and they have been visiting countries such as Norway, Sweden, Finland, Germany, Holland, Switzerland, France, Rumania, Russia, Kroatia and Turkey.
Kenn Lending Blues Band has recorded ten albums of their own. The latest called "Flying High", was released in January 2012, in connection with the 30 years jubilee of Kenn Lending Blues Band as a recording band. They have also recorded with blues greats as Memphis Slim, Louisiana Red, Luther Allison, Mickey Baker, Aron Burton, Jan Harrington, Lillian Boutté and of course Champion Jack Dupree.
Because of their deep understanding and respect for the afro-American blues, Kenn Lending Blues Band has been frequently used, as a backing band by American blues artists as Jan Harrington, Lillian Boutté, Aron Burton, Louisiana Red, Champion Jack Dupree, Memphis Slim and Luther Allison. In 1987 they toured in Germany as a opening act for Fats Domino, and they were also the opening act for BB King on his tour in Holland 1988 and on his concert in Copenhagen 1989. Kenn Lending also recorded with American rockband "The Band", and appears on the CD from 1996 "High On The Hog".
During 1994 Kenn Lending also has been working, with singer Lillian Boutté and her "Musicfreinds" on festivals, and on her six weeks 'Spirit of Louisiana Gospel Tour'. He also appear with her on the record: 'Live Gospel United', that made Top 40 of Denmark January 1995. Again in 1995 he joint The Gospel United tour with Lillian Boutté. In connection with this event the CD "People Get Ready" was released.
Kenn Lending Blues Band is known to have a very personal sound. This is even more evident on their latest CD "Flying High". With the new songs by Kenn Lending, he is taking the audience on a trip through the treasury of Afro-American music. The high performance of the individual musicians along with a perfect sound makes this album a milestone in the great career of Kenn Lending Blues Band. ---facebook.com/pg/Kenn-Lending-Blues-Band
download (mp3 @320 kbs):
yandex mediafire ulozto gett bayfiles