Chicken Shack – 40 Blue Fingers Freshly Packed And Ready To Serve (1968)
Chicken Shack – 40 Blue Fingers Freshly Packed And Ready To Serve (1968)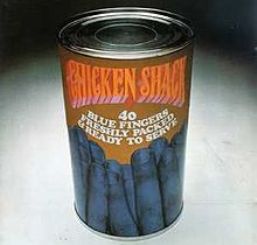 01. The Letter (Freddie King/Josea) -	4:25
02. Lonesome Whistle Blues (Toombs/Teat/Moore) - 3:00
03. When The Train Comes Back (Christine Perfect) - 3:30
04. San-Ho-Zay (Freddie King/Sonny Thompson) - 3:02
05. King Of The World (John Lee Hooker) - 4:59
06. See See Baby (Freddie King/Sonny Thompson) - 2:22		play
07. First Time I Met The Blues (Eurreal Montgomery) - 6:23
08. Webbed Feet (Stan Webb) - 2:52
09. You Ain't No Good (Christine Perfect) - 3:34
10. What You Did Last Night (Stan Webb) - 4:39				play

- Stan Webb - guitar, vocals
- Christine Perfect - piano, organ, female vocals
- Andy Sylvester - bass
- Dave Bidwell - drums
+
- Alan Ellis - trumpet
- Dick Heckstall-Smith - tenor saxophone
- Johnny Almond - alto saxophone
- Mike Vernon – producer

40 Blue Fingers, Freshly Packed and Ready to Serve is the debut album by the blues band Chicken Shack, released in 1968. The album reached number 12 in the UK charts.
If one can overlook Stan Webb's hyperventilating vocal excesses (which ain't easy), this is a promising debut, especially noteworthy for Webb's Freddie King-inspired guitar sting and Christine Perfect's understated vocals (only two, unfortunately compared to Webb's six). Webb does justice to his mentor with two instrumentals, King's "San-Ho-Zay" and his own "Webbed Feet," and Perfect proves the ideal counterpart -- one of the few pianists paying homage to King's longtime collaborator Sonny Thompson. Nice spare sound, typical of Mike Vernon's Blue Horizon label. --- Dan Forte, allmusic.com. Formed in 1967, Chicken Shack consisted of Stan Webb on guitar/vocal, Andy Sylvester on bass, Christine Perfect a.k.a Christine McVie, later a part of the great Fleetwood Mac on vocals/keyboards, and Alan Morley on drums. Webb is ,according to me, a really under-rated guitarist of the late 60's British Blues Scene , just like Les Harvey ( Stone The Crows), Mick Taylor ( The Bluesbreakers)...
Christine is a Godess. She's like Whoa!!! An amazing voice. Powerful, Soul-driven..definitely sounds very influenced by the great John Mayall. Chicken Shack made their public debut at the Great Britain's National Blues & Jazz Festival at Windsor along with Fleetwood Mac on August 13, 1967-- "There were two stages at Windsor, the main one an open-air ramshackle structure, the other inside a marquee. Fleetwood Mac had their initiation on the main stage but much was made of Chicken Shack's tented debut." But all said and done it's Christine who makes this album a real pick. I know of people who'd kill for a voice like that . very powerful and yet very smooth [and] soulful.
Stan Webb's charismatic guitar playing gives you another good reason to pick up this one. Check out his vocals on the Eurreal "Little Brother" Montgomery cover, First Time I met The Blues. Buddy Guy's version being the most popular. If you love the blues, simply. GO GET THIS ONE!! ---voodoo chile, amazon.com
download (mp3 @320 kbs):
yandex mediafire ulozto gett hostuje bayfiles
Zmieniony (Środa, 14 Październik 2020 14:49)