Thirsty Perch Blues Band – Meet The Thirsty Perch Blues Band (2009)
Thirsty Perch Blues Band – Meet The Thirsty Perch Blues Band (2009)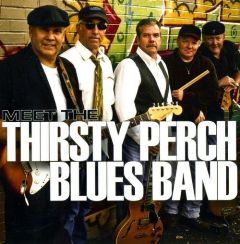 01. I Live The Blues – 4:32
02. Don`t Need It No More – 5:31
03. Heartbreak City – 4:32
04. Without You – 5:48
05. Takin` The Bait – 5:04
06. Half Hearted – 6:09
07. New Attitude – 3:40	        play
08. Feelin` Of Love – 5:18
09. Help Me – 5:55
10. I`ve Tried – 4:19
11. My Baby – 3:52		play

Personnel:
Chris Collins - Guitar (Left Channel), Vocals
George Ferguson - Drums, Percussion
Phillip A. Lindstrom - Bass, Vocals
Dan Lomas - Guitar (Right Channel), Keyboard, Vocals
Chuck Luscombe - Harmonica, Vocals
Dan Lomas - Guitar, Vocals

In the late summer of 2008, the Thirsty Perch Blues Band solidified their lineup and built their foundation as a powerhouse rockin blues band that can best be described as a howling hurricane of a five piece ensemble.
Their truly diverse musical influences are the driving force behind a proprietary sound that simply can`t be matched by your average blues band on the local scene.
MEET THE THIRSTY PERCH BLUES BAND, their debut CD includes eleven tracks of great Rockin Blues !
download:   uploaded anonfiles mega 4shared mixturecloud yandex mediafire ziddu
Zmieniony (Czwartek, 11 Lipiec 2013 19:22)