The Best Of Blind Lemon Jefferson (2000)
The Best Of Blind Lemon Jefferson (2000)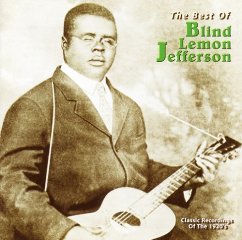 1. Match Box Blues
    2. That Crawlin' Baby Blue...
    3. Hot Dogs
    4. Corinna Blues
    5. Rambler Blues
    6. Rabbit Foot Blues
    7. Dry Southern Blues
    8. 'Lectric Chair Blues
    9. One Dime Blues
    10. Got the Blues
    11. See That My Grave Is Ke...
    12. He Arose from the Dead
    13. Black Horse Blues
    14. Prison Cell Blues
    15. Booster Blues
    16. Bed Springs Blues
    17. Jack O'Diamond Blues
    18. Beggin Back
    19. Wartime Blues
    20. Easy Rider Blues		play
    21. How Long			play
    22. Long Lonesome Blues
    23. I Want to Be Like Jesus...

Blind Lemon Jefferson (vocals, guitar); 
George Perkins (piano).

Though KING OF THE COUNTRY BLUES is the definitive Blind Lemon Jefferson collection, THE BEST OF still packs 23 tracks of some of the best country blues ever put to tape. There is some crossover between the two discs, including Jefferson classics like "Rabbit Foot Blues" and "See That My Grave's Kept Clean" (complete with Jefferson's simulation of church bells on guitar). But BEST OF contains several essential tracks not on KING OF, including the provocative "Bed Spring Blues," "Jack O' Diamond Blues" with its dreamy, free-floating tempo, and the rag-like "Dry Southern Blues." The wrenching "'Lectric Chair Blues," and the spiritual "I Want to be Like Jesus in My Heart"--neither of which are on KING OF--are here as well.
The sources for these recordings were original 78s--most of which were quite rare and in poor repair. Despite meticulous remastering, then, the sound quality is quite patchy, with a great deal of hiss and crackle. Nevertheless, Jefferson's plaintive, deeply soulful tenor and dazzling six-string technique (in which folk figures, blazing embellishments, boogie patterns, and funky ostinatos are blended together in a seamless, intoxicating style) can be heard and appreciated. This is utterly essential, classic country blues of the first order.
download (mp3 @320 kbs):
yandex mediafire ulozto gett bayfiles
Zmieniony (Sobota, 05 Wrzesień 2020 19:12)