Jimmy Carl Black – Is Singin The Blues (2003)
Jimmy Carl Black – Is Singin The Blues (2003)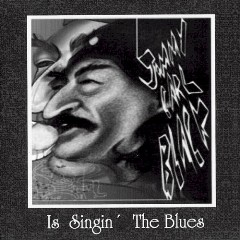 1. Big Leg Emma – 3:30
2. Low Ridin' Man – 4:47
3. Sick 'n' Tired – 3:47
4. 44 Blues (How Many More Years) – 5:53
5. Evil – 3:26
6. Hoochie Coochie Man – 3:46
7. I'm Willin' – 5:27
8. On The Road Again – 4:18
9. I'm A King Bee – 3:52
10. Hamburger Midnight – 4:41
11. Mercedes Benz – 4:43
12. Lonely, Lonely, Nights – 2:34
13. Look At Me, I'm In Love Again – 3:04
14. My Blonde Haired Woman – 4:01
15. Road Ladies – 4:55
16. Lady Queen Bee – 4:23
17. Who Did You Love – 2:59
18. Teenage Credit – 2:33
19. The Enron Blues – 3:38

Jimmy Carl Black (February 1, 1938 – November 1, 2008 ), born James Inkanish, Jr., was a drummer and vocalist for The Mothers of Invention. Born in El Paso, Texas, Black was of Cheyenne heritage. His trademark line was "Hi Boys and Girls, I'm Jimmy Carl Black, and I'm the Indian of the group." The line can be heard several times on the Mothers of Invention album We're Only in It for the Money (for example, on the tracks "Are You Hung Up?" and "Concentration Moon"). He has been credited on some Mothers albums as playing "drums, vocals, and poverty". He appeared in the movie directed by Frank Zappa, 200 Motels and sings the song "Lonesome Cowboy Burt".
In the seventies he toured with Captain Beefheart & The Magic Band and with Geronimo Black, the band he founded with Mothers' wind player Bunk Gardner. In the eighties Jimmy and Bunk and Don Preston performed under the name The Grandmothers along with a bunch of other ex-Zappa musicians, but the band disbanded soon. Then Jimmy moved to Austin, Texas where he met English singer Arthur Brown. The duo recorded an album of classic R&B songs, Black, Brown and Blue, and performed together. In 1993 Jimmy moved to Europe, where he reformed The Grandmothers with original members Don and Bunk and with Dutch bass player Ener Bladezipper and Italian guitar player Sandro Olivia.
This Album is a 2002 release which collects 19 songs from his legendary career with some of the bands he has played with over the years. On most songs he is just singing but on some of them he is also playing the drums as well.A collection of great songs!
download: uploaded 4shared ziddu gett mediafire hostuje anonfiles sugarsync
Zmieniony (Sobota, 13 Kwiecień 2013 12:00)