Nuno Mindelis & The Cream Crackers - Nuno Mindelis & The Cream Crackers (1998)
Nuno Mindelis & The Cream Crackers - Nuno Mindelis & The Cream Crackers (1998)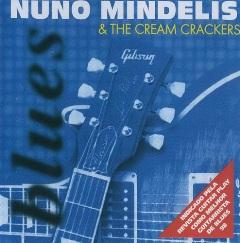 1. Talk About The Blues - 7:01
 2. Don't Hide Away - 4:28
 3. Pay The Cost To Be The Boss - 4:38
 4. Three Days Straight - 4:49
 5. It's Your Fault - 4:43
 6. Dog's Day Night - 3:14
 7. Answer To Ronnie - 4:53
 8. Talk About Somebody - 4:38
 9. It's My Turn - 6:20
10. Blues Time - 4:59
11. Iberic Blues - 1:01

Born in Angola in 1957, Nuno Mindelis was building and playing guitars by the time he was nine years old. Nuno's family lost everything in the Angolan Civil War, and he was forced to flee his home at age 17. After a year of separation, he was reunited with his family in Brazil and continued to pursue his music.
Nuno's early work, including the albums Blues & Derivados, and Long Distance Blues, received very positive reviews in Brazilian National media. "Guitar Player Magazine" profiled Nuno in an issue, with editor Jas Obrecht comparing Nuno to Jimmy Page ("think Jimmy Page 'I Can't Quit You Baby'"). Further recognition came in the 30th Anniversary Guitar Player Magazine Competition, where Nuno was named "Best Blues Guitarist". Nuno subsequently recorded "Texas Bound", featuring Tommy Shannon & Chris Layton, Stevie Ray Vaughan's famed rhythm section, "Double Trouble." "Texas Bound" came to be the top seller in Benelux (Belgium, Netherlands and Luxembourg) and brought worldwide recognition.
Nuno followed with another album featuring Double Trouble, entitled "Blues on the Outside." After his first appearance at the Montreal International Jazz Festival in 2001, Nuno was named by critics as the "best blues guitar" player of the Festival that year.
After the release of his album "Twelve Hours," which featured more original Blues tunes, Nuno released an album, "Outros Nunos", specially dedicated to Brazil. All the songs were recorded entirely in Portuguese and treated listeners to a fusion of other musical elements, including rap, hip hop and samba).The album received laudatory reviews and was considered one of the year's best albums in Brazil. In 2010, Nuno released "Free Blues.' Carol Borrington of Blues Matters Magazine-UK wrote: "In this CD you will find some of the best blues guitaring around". --- shiningstonerecords.com
download (mp3 @320 kbs):
yandex 4shared mega mediafire uloz.to cloudmailru gett