Yngwie Malmsteen - Concerto Suite for Electric Guitar and Orchestra (2002)
Yngwie Malmsteen - Concerto Suite for Electric Guitar and Orchestra In E Flat Minor Op.1 (2002)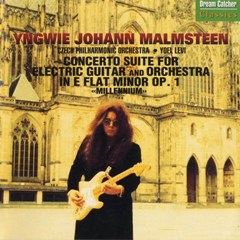 1 	Black Star Overture (Ochestra Only) 	
2 	Trilogy Suite Op. 5, The First Movement 	
3 	Brothers 	
4 	Icarus Dream Fanfare 	
5 	Cavallino Rampante 	
6 	Fugue 	
7 	Prelude To April 	
8 	Toccata 	
9 	Andante 	
10 	Sarabande 	
11 	Allegro 	
12 	Agagio 	
13 	Vivace 	
14 	Presto Vivace 	
15 	Finale 	
16 	Blitzkrieg (Encore) 	
17 	Far Beyond The Sun (Encore)

Yngwie Johann Malmsteen – electric guitar
Ritsuyukai Choir
New Japan Philharmonic
Taizo Takemoto – conductor

Few rock artists seem as custom-made for the "orchestral treatment" as classical metal buff Yngwie Malmsteen, and that's just what occurred with his 2002 release, Concerto Suite Live with Japan Philharmonic. Although not his first guitar-meets-orchestra release (1998's Concerto Suite for Electric Guitar and Orchestra in E Flat Minor Op. 1 preceded it), the latter album turns out to be a much more fully realized affair, as there has been speculation that Malmsteen had to overdub some solos on the first release -- instead of playing it all live as he does here. As evidenced by such tracks as "Trilogy Suite Op. 5, the First Movement," Malmsteen's playing is as over the top as ever, as his rapid-fire soloing does heroic battle with an orchestral accompaniment. Despite hard rock bands like Metallica and Kiss having also utilized the same setup on similarly styled releases, Malmsteen's music is better suited for an orchestra, as proven by Concerto Suite Live with Japan Philharmonic. Whether it's for better or for worse, that's another story. ---Greg Prato, AllMusic Review
No cóż. Wpadła mi w ręce płyta, a raczej dzieło muzyczne, zarejestrowane na płycie: "Concerto Suite For Electric Guitar And Orchestra - in E-flat minor Op. 1 'The Millenium'" autorstwa Yngwiego Johanna Malmsteena. Trudno rozpatrywać ten CD w kategoriach płyty. Trudno mówić tu o jakimkolwiek stylu, czy gatunku muzycznym. Jedno jest pewne - to najprawdziwsza muzyka klasyczna. Gra orkiestra, jest chór, jest dyrygent. Tylko solista to jakiś dziwny - facet z gitarą elektryczną.
Tym dziełem Yngwie Malmsteen potwierdził swoją klasę - jako kompozytor, przez duże K (całość jest jego autorstwa) i jako gitarzysta, chociaż pewnie znajdą sie tacy, co powiedzą, że gra szybko, a to nic specjalnego... Ale czy ktoś zarzucał Vivaldiemu, że "Cztery pory roku" to nic nadzwyczajnego, tylko pomykanie smyczkiem i palcami po skrzypcach?
W przypadku omawianego wydawnictwa sprawa jest jasna. Jest to muzyka klasyczna i jako taką trzeba ją rozpatrywać. Muzyka utrzymana w tonacji utworów XVIII wiecznych. Słychać wyraźnie fascynację Yngwiego kompozytorami baroku. Nie będę się rozpisywał, że słychać wpływy tego albo tamtego pana. Są w tej materii lepsi ode mnie, chociażby Boguś Kaczyński, czy Jurek Waldorf (osobiście bardzo byłbym ciekaw opinii tych Panów).
Oczywistym jest to, że Yngwie Malmsteen przełamał tą kompozycją wszelkie wyobrażenia zwykłego człowieka o muzyce. Mam tu na myśli muzykę klasyczną vs. hard rockową - metalową. Nigdy nie ukrywał swoich fascynacji muzyką klasyczną, co było słychać w jego utworach. Jakby na to nie patrzeć raczej ostrych. Ale wykręcić COŚ TAKIEGO!? Mnie zwaliło z nóg i nie tylko (patrz wyżej).
Momentami przebijają się melodie zaczerpnięte z wcześniejszych płyt. W "Icarus Dream Fanfare" wykorzystany jest motyw z "Icarus' Dream Suite Op. 4" z pierwszej płyty. W części finałowej - "Finale" - pobrzmiewa wstęp do kawałka "Fire And Ice". Takie barokowe zagrywki są na każdej płycie Malmsteena, są kwintesencją stylu Maestra, a tu znalazły się, jeśli można tak rzec, na swoim - bardzo dobrym - miejscu.
Nie ma co opisywać możliwości i umiejętności technicznych naszego bohatera - są już przysłowiowe. W muzyce klasycznej jest to chyba sprawa podstawowa. Moge dodać... Ale co tu dodawać...
Płyta cały czas jest w odtwarzaczu... Gra... Znowu te drgawki... Klawiatura spadła na podłogę... ---Dominik, rockmetal.pl
download (mp3 @ kbs):
yandex mediafire ulozto gett bayfiles
Last Updated (Wednesday, 17 April 2019 21:58)