Yngwie Malmsteen - Inspiration (1996/2007)
Yngwie Malmsteen - Inspiration (1996/2007)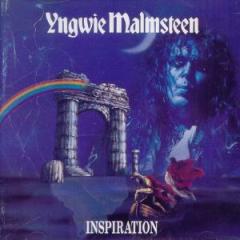 01. Carry On Wayward Son
02. Pictures Of Home
03. Gates Of Babylon
04. Manic Depression
05. In The Dead Of Night
06. Mistreated
07. The Sails Of Charon
08. Demon's Eye
09. Anthem
10. Child In Time
11. Spanish Castle Magic (Bonus)

Yngwie Malmsteen – vocals (track 4), guitar, bass (except track 1), sitar
Jeff Scott Soto – vocals (tracks 1, 3, 6)
Joe Lynn Turner – vocals (tracks 2, 8, 11)
Mark Boals – vocals (tracks 5, 7, 9, 10)
David Rosenthal – keyboard (tracks 1, 3, 10)
Mats Olausson – keyboard (tracks 2, 6)
Jens Johansson – keyboard (tracks 5, 8)
Anders Johansson – drums
Marcel Jacob – bass (track 1)

Malmsteen is re-joined by a bevy of former bandmates for an all-covers album paying tribute to some of the guitarist's more recent heroes. There are four Deep Purple covers (pioneering neo-classicist Ritchie Blackmore was a major influence), as well as material from Rainbow, Rush, Scorpions, and even Kansas. Malmsteen also offers his first studio version of Jimi Hendrix's "Manic Depression," long a live favorite. ---Steve Huey, Rovi
'Inspiration' is definitely one of my favourite Yngwie Malmsteen albums featuring wonderful cover versions of classic rock and some incredible vocals and special guests. It begins with Kansas' classic 'Carry on Wayward Son' with a heavy treatment of the killer riffs and terrific vocals by Jeff Scott Soto, an old fave singer of Malmsteen's from the early years. 'Pictures of Home' is a metal verision of Deep Purple's seminal rocker, with vocals by Joe Lynn Turner who also sings lead on 'Demon's Eye', both excellent covers with inventive reimaginings of the lead breaks. Malmsteen is a shredding genius.
The amazing 'Gates of Babylon' cover of Rainbow's mystical epic, is an outstanding track here, with the majestic style captured and fret melting lead work. Hendrix is a major influence on Malmsteen who according to his website was born the day Jimi died. 'Manic Depression' is one of my favourite Hendrix tracks and it is a joy to hear Malmsteen launch into that riff and scorching fiery lead break. Mark Boals is the vocalist on this and sounds terrific.
'In the Dead of Night' is a slower song covering the UK classic, but memorable for its catchy chorus and keyboards of Johansson. Whitesnake's power blues of 'Mistreated' follows and is absolutely brilliant, the riff, the lead break, and the vocals of Soto are outstanding making this a highlight. It is nice to hear Malmsteen's Rush influences here too with a cover of their 'Anthem' sounding bright and heavy. Scorpions 'Sails of Charon' is another standout track.
The piece de resistance of this album though is the astonishing cover of 'Child in Time' featuring Malmsteen smoking on the lead break. In fact this lead break is utterly ingenious, with super fast arpeggios, hammer ons, speed sweeps, piercing string bends, adagio and even the odd speeded up scale up and down the frets. I have heard this track the most of all on the album, and it is the best cover of the song without a shadow of a doubt. This is one to get hold of to check out Malmsteen at his most ferocious, he simply takes off into the stratosphere on the Fender strat. When the lead break finishes shredding fiercely there is a stunned silence for a few seconds, before the quiet organ returns, and I always draw out a breath of amazement here every time. It is simply breath taking guitar. The song has some wonderful keyboards too from Johansson and Turner's vocals are top notch.
'Inspiration' is a sensational cover album and showcases Malmsteen at his absolute best. It is great too as an introduction to the many bands being covered, many of which I had not heard a lot from when I first got hold of this album. I think Malmsteen has paid generous respect to songs and artists that have inspired him over the years, and he poured out all his energy and adoration towards these artists onto this album to create something very special. 4 stars for the incredible lead guitar and arrangements, and an extra 1/2 star for excellent covers of prog songs. --- AtomicCrimsonRush, progarchives.com
download (mp3 @320 kbs):
yandex mega mediafire uloz.to cloudmailru bayfiles
Last Updated (Tuesday, 16 April 2019 20:27)