Pięciolinie - Szkolne wspomnienia (2016)
Pięciolinie - Szkolne wspomnienia (2016)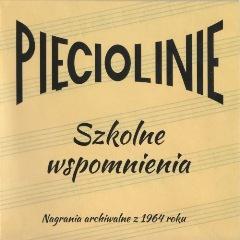 1 Molly-O 1:57
2 South Of The Border 2:47
3 Koniec Lata (wersja 1) 3:09
4 Peace Pipe 2:07
5 Wzburzone Morze 1:50
6 Gdy Odlatują Bociany 2:45
7 Chciałbym Być Przy Tobie (Wersja 1) 2:47
8 Waves Of The Danube 2:54
9 Koniec Lata (Wersja 2) 3:27
10 Theme For Young Lovers 2:29
11 I Saw Her Standing There 2:55
12 Kiedy Jestem Sam 2:51
13 Trzmiel (Wersja 1) 3:48
14 Zachód Słońca 2:31
15 Szkolne Wspomnienia 2:24
16 Chciałbym Być Przy Tobie (Wersja 2) 2:36
17 Trzmiel (Wersja 2) 2:56
18 Bo To Był Zły Dzień 2:46
19 Grał Zespół Pięciolinie... 0:18 


 


Pierwszy skład stanowili: Henryk Zomerski, Daniel Danielowski, Jerzy Kowalski, Bernard Dornowski, Marek Szczepkowski i Tadeusz Mróz.
 Na początku 1964 r. miejsce perkusisty J. Kowalskiego zajął Jerzy Skrzypczyk.
 Z formacją współpracował też Seweryn Krajewski oraz Roman Mróz – brat Tadeusza. W lipcu 1964r. do składu dołączył Krzysztof Klenczon. 



Pod koniec lutego br. nakładem firmy Kameleon Records ukazała się płyta, będąca wielką gratką dla wszystkich fanów polskiego big-beatu. Są ku temu co najmniej dwa powody: po pierwsze są to nagrania unikatowe, nigdy wcześniej nie wydane na CD, a po drugie jest to płyta zespołu, będącego… muzycznym protoplastą grupy Czerwone Gitary! Chodzi oczywiście o formację Pięciolinie, w której skład wchodzili wszyscy członkowie pierwszego składu Czerwonych Gitar: Jerzy Kosela, Jerzy Skrzypczyk, Henryk Zomerski, Bernard Dornowski, Krzysztof Klenczon oraz Seweryn Krajewski (w CzG na stałe od grudnia 1965, za Henryka Zomerskiego – przyp.). Na krążku, zatytułowanym "Szkolne wspomnienia", znajduje się 19 nagrań z 1964r.
Tak zapowiada płytę wydawca:
"Na albumie, obok kilku utworów wokalnych, znaleźć można sporo gitarowego grania, które powinno przypaść do gustu wielbicielom The Shadows. Nagrania archiwalne zostały niezwykle starannie i pieczołowicie odrestaurowane z najlepiej zachowanych kopii, bez nadmiernej kompresji czy, jak pisze wytwórnia, "przesadnego odszumiania". ---blog.czerwonegitary.pl
download (mp3 @320 kbs):
yandex mediafire ulozto gett bayfiles
Last Updated (Sunday, 18 October 2020 09:13)