Agnieszka Swita - Sleepless (2014)
Agnieszka Świta - Sleepless (2014)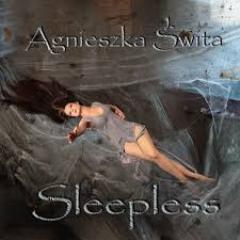 1. Something To Believe [4:17]
2. Code Of Humans (Cosmo Part I) [4:46]
3. Disclosure (Cosmo Part II) [4:42]
4. Asylum (Cosmo Part III) [3:26]
5. Borderland [6:18]
6. Trapped [4:08]
7. Scarlet [5:09]
8. Back To Life [4:40]
9. In Her Arms [4:33]
10. Sleepless [7:53]

Agnieszka Świta – vocal
Clive Nolan – keyboards, backing vocals
Steve Harris – guitar
Andy Faulkner – bass
Dave Mackintosh – drums

Do tej pory Agnieszka Świta była kojarzona głównie z albumami "She" oraz "Alchemy" Clive'a Nolana. Ta uzdolniona wokalistka swoim charakterystycznym głosem wprowadzała w muzykę maestro Nolana sporo kolorytu i choć jej maniera wokalna wzbudza kontrowersje to niezaprzeczalnym faktem jest to, że dziewczyna ma kawał głosu!
"Sleepless" to debiutancka płyta wokalistki i bez owijania w bawełnę już teraz napiszę, że możecie spodziewać się peanów. Album został nagrany w należącym do Karla Grooma (Threshold) Thin Ice Studio, co gwarantuje jakość brzmienia, a w pracach obok naszej głównej bohaterki wzięli udział: Clive Nolan (Pendragon, Arena, Caamora) – instrumenty klawiszowe, Steve Harris (Ark, Paul Menel Band) – gitary, Andy Faulkner (Jump, Twelfth Night) – bas i mistrz metalowego łojenia perkusista DragonForce Dave Mackintosh.
Za wyjątkiem kompozycji tytułowej materiał który się tu znalazł jest autorstwa Agnieszki i aż trudno uwierzyć, że to jej debiut w takiej roli. Płyta jest po prostu WYŚMIENITA! To jedno z nielicznych wydawnictw co do którego nie mam absolutnie żadnych zastrzeżeń. Utwory prezentują całe spektrum emocji ubranych w dźwięki a głos Agnieszki, który siłą rzeczy nigdy wcześniej nie otrzymał takich możliwości prezentacji jak tutaj wypada po prostu rewelacyjnie. Co najważniejsze z niesamowitym smakiem zaaranżowane zostały partie wszystkich instrumentów. Gitarowe solówki chwilami ocierają się o geniusz Steve'a Rothery, bas z perkusją nadają dynamiki a partie mr. Nolana – no cóż – to jest profesjonalista i fuszerki nigdy nie odstawia!
Część z was zapewne czeka na porównania, na punkt odniesienia, z jaką muzyką mamy tu do czynienia? Otóż po "Sleepless" bez chwili zastanowienia powinni sięgnąć fani Areny gustujący w pierwszych płytach zespołu, tych gdzie zespół nie flirtował jeszcze z metalem a całość miała taki przyjemny baśniowy nastrój. Dźwięki wypełniające srebrny krążek to porywające dynamiczne (z wyjątkiem ballad) rockowe kompozycje utrzymane w neoprogresywnych klimatach. Jest tu ich równiutko dziesięć, ale po ostatniej zawsze odczuwam niedosyt... Mam nadzieję, że Agnieszka pójdzie za ciosem i doczekamy się krążka numer dwa, pierwszy krok jest nader udany i mam nadzieję, że za jakiś czas płyta nie będzie wspominana jako jedno z bardziej niedocenianych wydawnictw... --- Piotr Michalski, rockarea.eu
I won't be surprised if people would tell me that they are not familiar with the music of the Polish singer Agnieszka Swita. Well, she had an important role in the two musicals written by Clive Nolan (Arena, Pendragon), namely She (2008) and Alchemy (2013). With the help of Nolan (keyboards, backing vocals) − who obviously has a leading role in her musical career − she recorded her first solo album Sleepless in 2014. The other musicians are guitarist Steve Harris (Ark), bassist Andy Faulkner (Jump) and drummer Dave Mackintosh (Dragon Force). The mix and mastering was in the capable hands of Karl Groom (Threshold).
Something To Believe, the opening tune of the album is a typical song for the musical style of Agnieszka Swita: up-tempo soft rock with clear lyrics that are easy to understand. Well, this is a nice and positive start. The first part of the triptych Cosmo called Code Of Humans starts slightly slower, but it soon builds up to a smooth rock song. The transparency both in the sung passages and the music is of an excellent quality; every detail can be heard clearly. Listen to the pounding drums, the electric guitar and the close harmony singing. The end of the song is in the vein of Arena. Disclosure, the second part of Cosmo, is a logical continuation of the first part. Of course Swita's voice is leading, but Nolan's synth solo is the icing on the cake. The last part Asylum can be called a one hundred percent Arena-proof piece only this time with a sparkling female voice. You may also compare it to the music of Landmarq featuring Tracy Hitchings.
Borderland is a perfect ballad from the beginning till the end; this piece really deserves a five star rating! The acoustic guitar, the brilliant synthesizer solo by Nolan, the melodic electric guitar solo and the excellent combination of the angelic voice of Agnieszka together with the orchestra repeating the verse over and over again, make this piece one of the highlights of this CD. Trapped is an energetic and powerful rock song that keeps you focussed during the full six minutes. It contains interesting lyrics about staying awake as dark elements trying to drag you into the eternal death. This piece sounds like a blend of Within Temptation and Epica. Scarlet has the same intro as many well-known Arena songs in which Agnieszka sings like Kate Bush in her heydays.
The up-tempo piece Back To Life again contains dark lyrics about death. It feels like being part of her personal nightmare. Even darker and more dramatic is In Her Arms. Only accompanied by a piano and an acoustic guitar Agnieszka Swita's doing her utmost to show her vocal capacities. In my opinion the guitar solo at the end makes it the absolute highlight of her debut album. The title track is the right song to end this excellent album with. ---Peter Willemsen, backgroundmagazine.nl
download (mp3 @320 kbs):
yandex mediafire uloz.to mega 4shared cloudmailru gett
Last Updated (Thursday, 07 December 2017 14:22)