Chłopcy kontra Basia - Oj tak! (2013)
Chłopcy kontra Basia - Oj tak! (2013)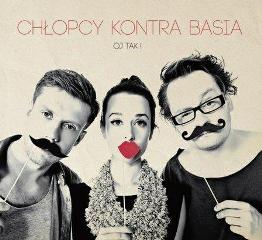 1.Mam ja męża
2.Oj tak
3.Hej zagraj muzyczko
4.Krzywa noga
5.Jerzy
6.Kasia
7.Sukienka
8.Bociek
9.O Martusi pchełce
10.Wieczerza
11.Lament
12.Sekret

Basia Derlak - słowa piosenek, śpiew, klarnet
Marcin Nenko - kontrabas
Tomasz Waldowski - perkusja, futujara ("Jerzy"), fortepian ("Wieczerza")
Mariusz Obijalski - rhodes ("O Martusi pchełce")
Andrzej Karp - produkcja muzyczna, realizacja nagrań, miks

"Chłopcy kontra Basia" spotkali się w 2009 roku. Pochodząca z Chełma Barbara Derlak dała ogłoszenie w internecie, że chce założyć zespół. Odpowiedział krakowianin Marcin Nenko. Dołączył do nich pochodzący również z okolic Chełma Tomasz Waldowski. Zanim stali się znani z polsatowskiego programu "Must be the Music" zostali już docenieni w środowisku folkowym. Zdobyli nagrody w 2010 r. na Festiwalu Polskiego Radia "Nowa Tradycja" i w 2011 r. podczas Mikołajków Folkowych w Lublinie.
Udział w talent show z pewnością pomógł w wydaniu albumu, którym niedawno się ukazał. Ja sam nie jestem wielkim miłośnikiem folku. Ale tej płyty słuchałem z przyjemnością. W bardzo minimalistycznej muzyce zespołu oprócz folku najwięcej słychać jazzu, ale również bardziej współczesnych brzmień, jak np. w szybkim i połamanym "Jerzym". Żonglerka stylami niekiedy potrafi zaskakiwać, gdyż już w następnym na płycie utworze "Kasia", słyszymy tylko wokalistkę śpiewającą bez żadnego akompaniamentu.
"Nie żałuję ci skwarków, ni omasty. Choć wiem, choć wiem mój miły – u niej dzisiaj zaśniesz" – śpiewa nieszczęśliwie zakochane dziewczę w "Wieczerzy". Smutne i piękne są słowa tej piosenki. Teksty wszystkich utworów na płycie są stylizowane na ludowe, ale ich autorką jest Barbara Derlak. Jak sama mówi, podczas ich pisania czerpała z ludowych pierwowzorów. I trzeba przyznać, że poszło jej wyśmienicie. Udało się w tych tekstach przekazać siłę i piękno języka polskiego.
Moim największym marzeniem jest nagranie pięknie brzmiącej płyty – mówiła Barbara Derlak 1,5 roku temu w wywiadzie dla portalu Meakultura. Marzenie się spełniło. Oj tak! ---Paweł Buczkowski, dziennikwschodni.pl
download (mp3 @320 kbs):
uploaded yandex 4shared mediafire mega solidfiles zalivalka cloudmailru filecloudio oboom