Lucyna Arska – Na Cyganska Nute (1978)
Lucyna Arska – Na Cyganska Nute (1978)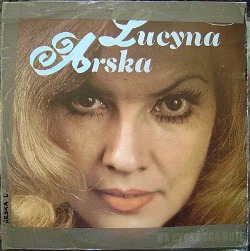 A1 	Romans Przy Ognisku 		
A2 	Uśpiony Tabor 		
A3 	Hej!Tam Popod Lasem 		
A4 	Janczary 		
A5 	Oczy Czarne 		
A6 	Drago 		
B1 	Ach, Gore, Gore! 		
B2 	...I Kochaj, Kochaj Mnie 		
B3 	W Drzwi Kołacze Wiatr Zimowy 		
B4 	Furtka 		
B5 	Nie Pytaj Rzeki 		
B6 	Całuj 		
B7 	Hej! Woźnico Pędź Do "Jaru"

W czerwcu 1962 w Staromiejskim Domu Kultury w Warszawie zorganizowano Giełdę Piosenki promującą grupę absolwentów Państwowej Średniej Szkoły Muzycznej. Pomysłodawcą tego koncertu był Zbigniew Adrjański. Wśród laureatów tego konkursu była m.in. Lucyna Arska, która poźniej została żoną Adrjańskiego,
Romans cygański to gatunek, który znała od dzieciństwa. Jej matka pochodziła z Jekaterynosławia na Ukrainie. Pięknie śpiewała i to ona nauczyła Lucynę romansów i dumek.
Oprócz szkoły muzycznej Lucyna Arska jest też absolwentką Liceum Sztuk Plastycznych. Śpiewu uczyła się u Wandy Wermińskiej i Wacława Brzezińskiego.
W latach 60-tych śpiewała w różnych stylach ze znanym orkiestrami. Miała kilka przebojów ale nie była z takiego repertuaru zadowolona. Do śpiewania piosenek cygańskich namówił ją Ludwik Sempoliński, który widział w niej następczynię sławnych przedwojennych wykonawczyń romansów.
W tym gatunku stała się jedną z najpopularnijeszych piosenkarek polskich. W latach 70-tych i 80-tych jeździła po całym kraju z koncertami i recitalami. Wiele nagrywała w dla Programu III Poalkeigo Radia. Występowała też prawie w całej Europie. W sumie wzięła udział w ponad 2 tysiącach koncertów.
Nagrała dwie płyty długogrające.
download:   uploaded 4shared ziddu divshare gett
Last Updated (Tuesday, 08 January 2013 13:50)