Maria Jezowska - Maria Jezowska (1981)
Maria Jeżowska - Maria Jeżowska (1981)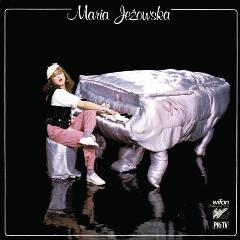 A1 Od Rana Mam Dobry Humor
A2 Reggae O Pierwszych Wynalazcach
A3 Deszcze Z Zielonych Lat
A4 Żyć Do Pełna
A5 Kolejowy Flirt

B1 Kino "Raj"
B2 Najpiękniejsza W Klasie
B3 Jadę W Świat
B4 Nutka W Nutkę Zgadza Się
B5 Nocne Grania

Maria Jeżowska – vocals
Maria Piątkowska, Ryszard Kniat, Urszula Kasprzyk – backing vocals
Orkiestra Pod Dyrekcją Janusza Komana (tracks: A1, B2, B5)
Orkiestra Pod Dyrekcją Jerzego Suchockiego (tracks: A2)
Orkiestra Pod Dyrekcją Waldemara Parzyńskiego (tracks: B4)
Orkiestra Pod Dyrekcją Wojciecha Trzcińskiego (tracks: A4)
Orkiestra Pod Dyrekcją Janusza Piątkowskiego (tracks: A3, A5, B1, B3)

Piosenkarka mówi, że na chrzcie otrzymała imiona Maria Zofia, ale w tamtych czasach obydwa były bardzo pospolite i brzmiały zbyt poważnie, by używać ich w świecie artystycznym. Kiedy Majka Jeżowska nagrała płytę z piosenkami dla dzieci, wybrała pseudonim "Majka", który wyróżniał ją spośród innych piosenkarek i idealnie pasował do lekkiego repertuaru.
– W oficjalnych dokumentach urzędowych figuruję jako Maria Jeżowska. Dostałam takie imię na chrzcie po babci. W mojej klasie w liceum ogólnokształcącym w Nowym Sączu było aż 9 Marii i to była masakra – mówi Majka Jeżowska agencji informacyjnej Newseria Lifestyle.
Jako Maria Jeżowska piosenkarka wydała dwie płyty: "Jadę w świat" (1981) i "Wibracje" (1987). Dopiero podczas premiery albumu z piosenkami dla dzieci zaczęła posługiwać się imieniem, które przez lata funkcjonowało wśród jej bliskich i przyjęło się bardziej niż to zapisane w metryce.
– Odkąd pamiętam wszyscy w rodzinie mówili do mnie zawsze "Majka", dlatego kiedy nagrałam swoją pierwszą płytę z piosenkami dla dzieci "A ja wolę moją mamę", postanowiłam zostać Majką Jeżowską i teraz raczej lepiej czuję się jako Majka niż jako Maria – mówi piosenkarka.
Jeżowska przyznaje, że imię Maria co prawda jest piękne, ale w przypadku jej energicznej osobowości – zbyt chłodne i dostojne. Woli, gdy ktoś zwraca się do niej po prostu "Marysiu".
– Dla mnie Maria to jest ktoś taki bardzo dorosły, w garsonce i z kokiem na głowie. Myślę, że mam jeszcze czas być Marią – dodaje Jeżowska. ---lifestyle.newseria.pl
download (mp3 @320 kbs):
yandex 4shared mega mediafire cloudmailru uplea ge.tt
Last Updated (Sunday, 13 November 2016 12:47)