Night's Blood - Bitwa - Kraina Wiecznego Mrozu: Słowiańskie Miecze Gromu (2013)
Night's Blood - Bitwa - Kraina Wiecznego Mrozu: Słowiańskie Miecze Gromu (2013)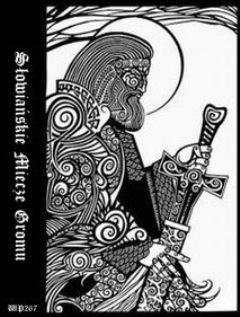 01. Night's Blood – Night's Blood Majesty
02. Night's Blood – Beast of the Dismal Heat
03. Night's Blood – W Beskresie Ponurej Nocy
04. Night's Blood – Destroyers of judea
05. Night's Blood – Krwawe Cienie Śmierci
06. Night's Blood – Forsaken Summoning
07. Bitwa – Swietowit's Awakening
08. Bitwa – Swietowit's Fury
09. Bitwa – Swietowit's Nocturnal Ride
10. Bitwa – Under the Pagan Night Skies
11. Kraina Wiecznego Mrozu – Intro
12. Kraina Wiecznego Mrozu – Pruskie Lesne Krolestwo
13. Kraina Wiecznego Mrozu – Nigdy sie nie poddam
14. Kraina Wiecznego Mrozu – Wojna
15. Kraina Wiecznego Mrozu – Ziemia Ojcow

Miałem spory problem z tą płytą. Na początku kompletnie mi nie weszła, chociaż ja takie granie lubię.W takim wypadku trzeba po prostu iść tropem wódy. Zakąszasz i robisz repetę, aż butelka wyschnie i świat stanie się przyswajalny. W tym wypadku wystarczyły 3 przesłuchania.
Zaczniemy od Night's Blood jako najmłodszego tworu na tym splicie. Wiem, że od pewnego czasu powtarzam to znudzenia, ale lekturę recenzji zacznijcie od sprawdzenia kto jest odpowiedzialny za ten projekt. Widzicie? No to już wiecie czego możecie się spodziewać.Prosto bez kombinowania, czasem wręcz siermiężnie. Łopatologiczny przekaz i ogromne zaangażowanie. To nie jest black metal dla wymuskanych metalowców w rajbanach. To muzyka na zasadzie "Take it, or Leave It", czy po naszemu bierz, albo spierdalaj.
Bitwa – drugi projekt na tym splicie, bytuje w Juesej. Zdecydowanie stawia tutaj na dość chłodną, żeby nie powiedzieć zimową atmosferę (taki to prawda snow black metal). Dwa kawałki to dość jednostajna, a przez to właśnie wciągająca i wchodząca do głowy muzyka. I gdyby nie utwór numer trzy to bym powiedział, że to najlepszy band na tym splicie. "Under the Pagan Night Skies" to pomyłka. Ponad 8 minut (dokładniej 8:41) bezsensownego dla mnie plumkania w którym nie dzieje się kompletnie nic. O ile być może rozumiem zamysł, o tyle mnie to po prostu usypia.
Kraina wiecznego Mrozu. Materiał ze wszystkimi możliwymi wadami i zaletami pagan black metalu połowy lat dziewięćdziesiątych. Sporo momentów słabych, nawet zabawnych z perspektywy dzisiejszego, lekko (tja..) podstarzałego recenzenta. Tak naprawdę jednak w tym wypadku ważne jest zaangażowanie, którego odpowiedzialnym za Krainę odmówić nie można. . Generalnie sporo tu mieszania gatunków. Złośliwie można by powiedzieć, że Panowie przynieśli ze sobą to czego udało się im nauczyć w domu, zagrali i jakoś te klocki udało się im wpasować (czasem wepchnąć). Mnie to jednak bierze. ---Ef, chaosvault.com
Night's Blood is Polish black metal band formed in 2011 and this band only has, as far as I know, a promo recorded in 2012 titled Into the Infinity of Grim Night.
Bitwa is also a relatively new band, formed in 2010 and according to metal archives it's a one-man band that comes from Washington, USA. Bitwa's lyrical themes are "Battle, Slavic Paganism, Hatred, Death" which is quite strange for an American band. This band released a demo in 2012 titled Glory to Swietowit.
Kraina Wiecznego Mrozu is also from Poland, the name translates to Land of Eternal Frost. That's a nice name. It's an old band formed 20 years ago, back in '97. Kraina Wiecznego Mrozu had a demo tape Ziemia Ojców recorded in '98 and released in '99.
The split I'm sharing contains all three of these demos, so it lasts quite long - over an hour. It was released as a cassette limited to 500 copies in 2013 by Polish label Werewolf Promotion. I ordered the tape from Putrid Cult few months ago, but recently I realized I actually own this tape already, I must had purchased it back in '14 or sometime back then... So now I have two copies of it. It's the same situation with Zuarasiz Pogańskie płomienie zaświatów demo '11 tape released by Werewolf Promotion, I have 2 copies as well. I would like to trade both of them for something I don't own so if you're interested or have something you'd like to get rid of, let me know in the comments.
Night's Blood is raw/pagan black in vein of 90's Polish bands, quite melodic and grim. Perfect mix of melody, melancholy and rawness just how I like it.
Bitwa is much more hateful and dark, atmosphere is very cold and it somehow reminds me of the way Striborg's Nefaria / A Tragic Journey Towards the Light felt. I'm enjoying Bitwa's part of the split more than I enjoyed Night's Blood songs. It feels very primitive and astral, dreamy. Kraina Wiecznego Mrozu is the highlight of the split. It brings the atmosphere of Polish 90's black, the sound production is not great but that doesn't bother me. It's raw and pagan and you'll enjoy it if you're a fan of TTF.
My favorite part of this split album is Bitwa's outro instrumental Under the Pagan Night Skies. Why? I love Veles, I love Veles more than any other band probably. And if you're a Veles fan, you'll know why this is my favorite song on the split. No, of course, it's not a Veles cover. But one of the things that make me love Veles is their acoustic parts and keyboard parts and samples. Veles was able to create such heavy and dark ambient music which made their sound a true mind journey... A True soundtrack to the Black Flame always peacefully burning within, the feeling of having this powerful, immortal, ancient, wise spirit inside you... Bitwa was able to re-create that in this song. That's why it's my favorite part of the split album, because it's more than music.
I enjoy this split and can recommend it if you enjoy raw black metal, pagan black metal, the way Slavic black bands sounded like in the 90's. Enjoy! ---hymns-to-the-moon.blogspot.com
download (mp3 @320 kbs):
Last Updated (Thursday, 01 March 2018 17:30)