No Woman No Cry by Bob Marley
No Woman No Cry by Bob Marley

No Woman No Cry is a title of a song written by Bob Marley, a famous Jamaican Reggae artist. The meaning of "No Woman No Cry" is controversial.
I've thought that the meaning is "There is no woman who does not cry". However, someone says the meaning is "Women! Do not cry !". It would be rendered "No, woman, nuh cry" in Jamaican Patois. The "nuh", which makes a shorter vowel sound for "no", is the equivalent of the contraction "don't".
No Woman No Cry
The song first became known in 1974 through the studio album Natty Dread. This became Marley's first hit when it was released as a single from his album, Live!, which was recorded at the Lyceum in London in 1975. It was a hot July night, and they gave a rousing performance. This tour was a breakthrough for Marley and The Wailers.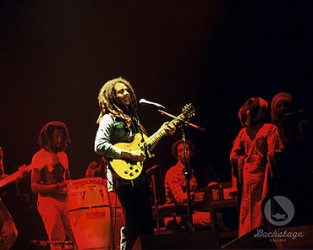 Lyceum Theatre, London 1975
Their previous tour went horribly, as audiences outside of Jamaica did not appreciate his pure Reggae. He polished and tightened his sound for this tour in order to compete with the slick arena acts that were popular at the time, and got a great response. Glowing reviews led to sold out shows in the US, and by the time the tour hit London, they were a huge success.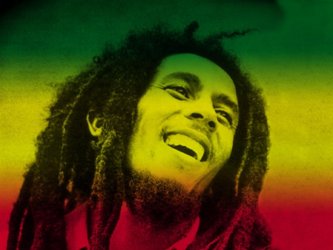 Bob Marley
Marley developed a powerful stage presence on this tour, and added musicians like Family Man Barrett and Al Anderson to sweeten the sound. The audiences on the tour where the live version was recorded were evenly mixed between black and white people. Marley was one of the few artists to have mass appeal that transcended race. The song became a highlight of Marley's concerts as the crowd always joined in. It is very easy to sing along to.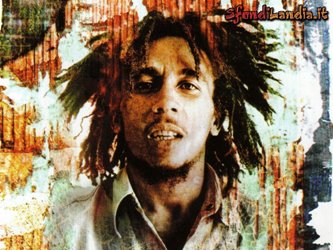 Bob Marley
Bob Marley was born Robert Nesta Marley on Feb. 6, 1945 in Saint Ann, Jamaica. His father, Norval Sinclair Marley, was a white Englishman and his mother, Cedelia Booker, was a black Jamaican.
Bob Marley recorded his first two singles in 1962, but neither garnered much interest at the time. In 1963, he began a ska band with Bunny Wailer and Peter Tosh that was originally called "The Teenagers". and finally just "The Wailers".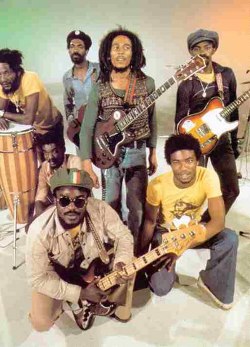 The Wailers
The Wailers' 1974 album Burnin' contained "I Shot The Sheriff" and "Get Up, Stand Up",both of which gathered cult followings in both the US and Europe. The same year, however, the Wailers broke up to pursue solo careers. At this point, Marley had made the full transition from ska and rocksteady to reggae.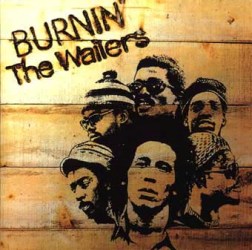 Album 'Burnin' - front
Bob Marley continued to tour and record as Bob Marley & The Wailers, though he was the only original Wailer in the group. In 1975, "No Woman, No Cry" became Bob Marley's true breakthrough hit song, and his subsequent album Rastaman Vibration became a Billboard Top 10 Album.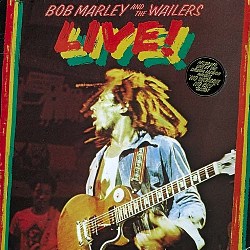 Album 'Live!' - front
Though Bob Marley may have written the song, or may have written the melody, songwriter credits were given to "V. Ford". Vincent Ford was a friend of Marley's who ran a soup kitchen in Trenchtown, the ghetto of Kingston, Jamaica where Marley grew up. The royalty checks received by Ford ensured the survival and continual running of his soup kitchen.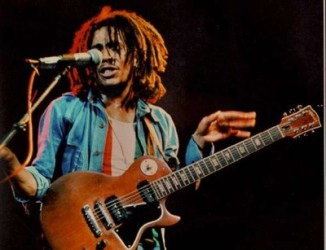 Bob Marley
The song tells the story of him in his early years. Bob grew up in one of these developments as a child. Firelight refers to this. At night, in the center of the development, a huge fire was lit every night for a number of reasons. One was to keep warm since the buildings had no heating and to cook the community food such as "cornmeal porridge." He is speaking to someone and telling that person, a girl, to look to the future and not to cry because of the circumstances.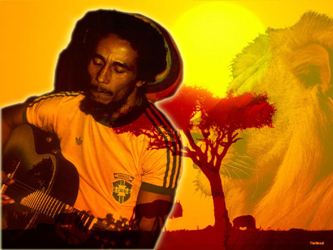 Bob Marley
It is also said that Bob predicted his illness which he would get later in life when he says "My feet is my only carriage, so i'll have to push on through." Bob got cancer which started in his big right toe years later. He refuse surgery because he wasn't sure how it would effects his dancing on stage. So he would have to push on through. He is saying in his absents not to cry. It should also be mentioned that at the end of the performance, he would always cry which means the song was personal to him.
No Woman, No Cry (as recorded by Marley & The Wailers) was No. 37 on Rolling Stone's 500 Greatest Songs of All Time.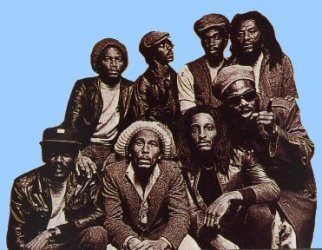 Bob Marley & The Wailers
No Woman No Cry, lyrics

No, woman, no cry (x4)

Said - said - said: I remember when we used to sit
In the government yard in Trenchtown,
Oba - obaserving the 'ypocrites
As they would mingle with the good people we meet.
Good friends we have, oh, good friends we've lost
Along the way.
In this great future, you can't forget your past;
So dry your tears, I seh.

No, woman, no cry;
No, woman, no cry.
'Ere, little darlin', don't shed no tears:
No, woman, no cry.

Said - said - said: I remember when-a we used to sit
In the government yard in Trenchtown.
And then Georgie would make the fire lights,
As it was logwood burnin' through the nights.
Then we would cook cornmeal porridge,
Of which I'll share with you;
My feet is my only carriage,
So I've got to push on through.
But while I'm gone, I mean:

Everything's gonna be all right! (x4)
I said, everything's gonna be all right-a!
Everything's gonna be all right!
Everything's gonna be all right, now!
Everything's gonna be all right!

So, woman, no cry;
No - no, woman - woman, no cry.
Woman, little sister, don't shed no tears;
No, woman, no cry.

I remember when we used to sit
In the government yard in Trenchtown.
And then Georgie would make the fire lights,
As it was logwood burnin' through the nights.
Then we would cook cornmeal porridge,
Of which I'll share with you;
My feet is my only carriage,
So I've got to push on through.
But while I'm gone:

No, woman, no cry;
No, woman, no cry.
Woman, little darlin', say don't shed no tears;
No, woman, no cry.

Eh! (Little darlin', don't shed no tears!
No, woman, no cry.
Little sister, don't shed no tears!
No, woman, no cry.)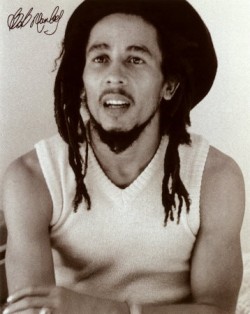 Bob Marley
Last Updated (Saturday, 14 March 2015 12:21)