Midnight Blues (Snowy White and Gary Moore too)
Midnight Blues (Snowy White and Gary Moore too)
In June 1990 Roger Waters, having split from the Pink Floyd, asked Snowy White to perform with him on the spectacular 'The Wall' show in Berlin. White can be seen in the documentary Roger Waters: The Wall. His blonde hair is easily recognizable, as is his gold Les Paul. "It's quite interesting, because they must have filmed thousands of hours backstage, every show – for months, years. It was a well-oiled machine, and never difficult at all. Even if it wasn't mine, it was a pleasure playing that really great music." In 1991 Waters again called upon Snowy, this time to play at the 'Guitar Legends' concert in Seville as part of Expo. After this concert Snowy decided that it was time that he returned to the mainstream of things so he set about putting down songs that he had been writing during the previous few years.
Midnight Blues
What from his own catalog would he recommend to someone seeking samples of his quieter, bluesier side?
"There are a lot of things I think sound pretty good," Snowy said. "But, one that seems very popular, with a lot of downloads on YouTube and comments, is 'Midnight Blues.' When I did my first album as The White Flames, I said, 'To hell with the record companies, to hell with radio play. Forget all that, we're just going to play for ourselves.' And I'm really pleased with that song and the album No Faith Required."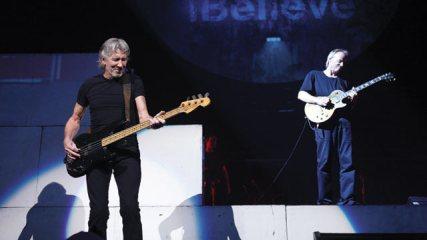 Roger Waters & Snowy White, "The Wall"
Taken from the "No Faith Required" album, "Midnight Blues" sets a quiet mood which is interesting with all of the fire and brimstone of a massive rock show but draws the crowd through subtler means. John "Rabbit" Bundrick's organ delivers a gospel-like quality well matched to White's dry talk-singing style. When the impact is due Jeff Allen's drums produce a thunderous roar as the sustained guitar notes soar above, touching down softly to a cathedral-esque atmosphere and a fading of sound into the swimming reverberation. A mainstay in White Flames Band sets since its inception, "Midnight Blues" manages to deliver on that late night smoky bar mood the title promises.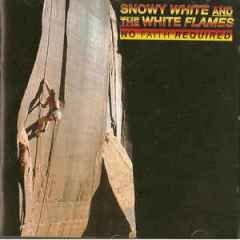 Snowy White & The White Flames - No Faith Required
Spring 1989. Gary Moore was touring across Europe promoting his latest album 'After The War,' his fifth rock album for Virgin since 1982's 'Corridors Of Power'. Sales and profile were growing with each album, culminating in 'Wild Frontier' in 1987. But Gary was tiring of the 1980s rock treadmill; the emphasis on soulless fret-melting guitar, big hair and looking serious in daft pop videos. He realised, too, that he was repeating himself as a songwriter. He needed to take some risks if he was to move on – but which way to turn?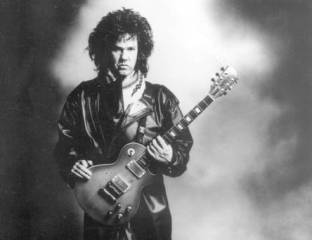 Gary Moore
Sitting in the tune-up room loosening up before a gig in Germany with his long-time bass player Bob Daisley , the answer came. "We were messing about playing bits and pieces of blues," says Daisley. "Stuff from the Bluesbreakers' Beano album. And then it came to me. I said to Gary, 'Why don't we do a blues album?'"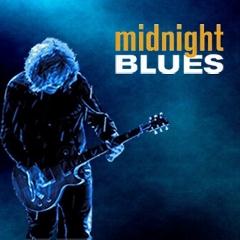 Gary Moore - Midnight Blues
1990's "Still Got The Blues"album was an abrupt and risky game-changer that reignited the tradition of blistering British blues guitar. The album features two of the finest blues guitarists in the world, namely Albert King and Albert Collins, plus an appearance by George Harrison who wrote the song 'That Kind Of Woman.' The slow-uplifting motion of 'Midnight Blues' and the grounding grind of the Albert King tribute 'King Of The Blues' shows Moore playing at two ends of the blues spectrum and coping with it admirably.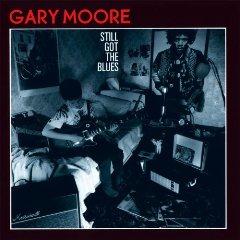 Gary Moore - Still Got The Blues
One thing's for sure, Gary Moore was a worthy recipient of the most famous Les Paul on the planet. Unforeseen financial problems forced Moore to sell it. An American collector Melvyn Franks bought it, but the guitar has come home. Airey says he heard Joe Bonamassa play "Midnight Blues" on it at the Royal Albert Hall and he "just sat there and burst into tears".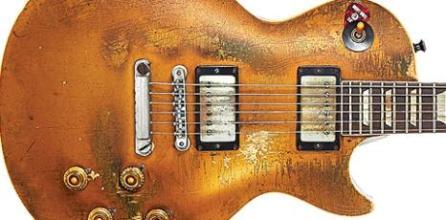 Les Paul
The album had a broader impact, too. While the international white blues scene was dominated by British guitarists in the 1960s and 1970s; the likes of Stevie Ray Vaughan and Jeff Healey captured the territory in the 1980s. "Still Got The Blues" put British blues playing back on the map, inspired a new generation of guitar players and provided much of the repertoire for the UK pub blues scene of the 1990s.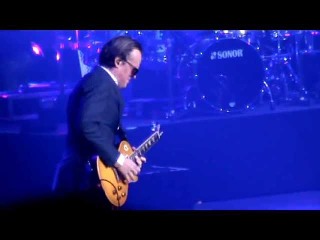 Joe Bonamassa at Royal Albert Hall
Snowy White - Midnight Blues lyrics

This is my blues
Cause I'm back then on my own again
This is the blues I'm playing

Yes it's the final thing
When the night is cold and lonely
This is the midnight blues

This is the midnight blues
For the girl I left behind me
Ain't it the final thing

This is the blues
Just a feeling deep inside of me
This is the midnight blues

Snowy White
Gary Moore - Still Got The Blues lyrics

Used to be so easy
to give my heart away.
But I've found out the hard way
there's a price you have to pay.
I found out that love, is no friend of mine
I should've known time after time

So long
it was so long ago.
But I've still got the blues for you.

Use to be so easy
Fall in love again
But I found out the hard way, it's
a road that leads to pain.
I found out that love
was more than just a game
you play on to win
but you lose just the same.

So long
it was so long ago.
But I've still got the blues for you.

So many years since I've seen your face,
but You will in my heart
there's an empty space
where you used to be.

So long
it was so long ago.
But I've still got the blues for you.

Though the days come and go
There is one thing I know
I've still got the blues for you.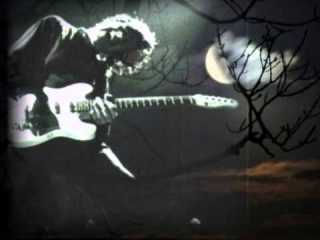 Midnight Blues