Michal Urbaniak – Miles of Blue (2009)
Michal Urbaniak – Miles of Blue (2009)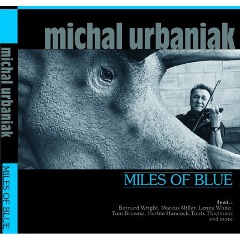 CD1
01 All Blues
02 Romance
03 I Just Love You
04 Manhattan Man
05 Nirvana
06 Facts Of Life
07 Serenada
08 Paris Groove
09 Fall
10 Urban Express
11 Manhattan Man

CD2
01 All Blues feat. Mika, Nato
02 Just A Funky Feeling feat. Calvin
03 All Blues feat. Mika, O.S.T.R.
04 Ilumination feat. Ronnie, Herbie
05 Mission feat. 4Kham
06 The Human Orchestra
07 All Blues (Remix By Makaruk)
08 All Blues feat. Mika

Michał Urbaniak - violin
Al MacDowell - bass guitar
Lenny White - drums
Jon Dryden - keyboards
Tom Browne - trumpet
Mika Urbaniak - vocal, rap

50 years has passed since the release of Miles Davis's "Kind of Blue". This most famous, most acclaimed and the best-selling jazz album in the history of jazz is also Michal urbaniak's favorite album of all time. this is the album he would take with him on a deserted island if he could only take one.
Miles Davis heard Michal Urbaniak for the first time on the NBC "Tonight Show", hosted by Johnny Carson. Carson said of Urbaniak"s music "from the time of the Stones this is the freshest and most interesting sound I've ever heard. When Davis saw Urbaniak on the "Tonight Show" he said " Give me this polish fucking fiddler, he's got that sound." Soon after, the artist's met and they recorded a song in 1985 on the album "Tutu" After Miles Davis's death, michal Urbaniak planned to release Miles Davis songs in his own arrangements, but he saw that everyone was doing the same thing and backed out from the competition. He kept the sketches until today and some of these were put on the artist's latest album "Miles of Blue" which had it's premiere on October 5th 2009. The album was created with adoration for Miles and respect to all the musicians that played with Miles Davis and Michal Urbaniak.
"For most of my artistic career I knew how to pick great new young talent. Most of them were young musicians who later in their careers played with Miles, Weather Report and Joe Zawinul. It wasn't important to me to have famous names on my albums, rather amazing musicans. but after some time, these artists became famous." During the upcoming tour Michal Urbaniak will play on his "tallking violin" which he has commented on. "Playing on my violin, I sing with a special microphone, near my lips. It changes the sound, kind of filter. While playing, I sing and get that "jazz feeling" effect, which I really love, and that makes me think of my playing on the saxophone and reminds of me of my favorite jazz singers." –cdbaby.com
"Miles of Blue", czyli płyta nagrana przez Michała Urbaniaka w swoistym hołdzie dla jego mistrza artystycznego i mentalnego Milesa Davisa, to tak naprawdę nie jest płyta do końca jazzowa. Zresztą muzyka Urbaniaka już od dawna lawiruje na krawędzi różnych gatunków. Mamy tu więc i trochę popu, i trochę funku, i trochę smooth jazzu. A na drugim krążku dwupłytowego albumu króluje hip-hop.
download (mp3 @320 kbs):
yandex 4shared mega mediafire cloudmailru uplea
Last Updated (Thursday, 09 June 2016 08:40)