Uschi Brüning - Uschi Brüning (1982)
Uschi Brüning - Uschi Brüning (1982)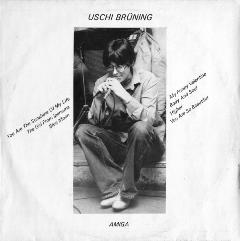 01. Higher
02. Touch Me
03. Blue Moon
04. The Girl From Ipanema
05. Aladin's Lamp
06. Fool On The Hill
07. Walking

08. Anthropology
09. Body And Soul
10. My Funny Valentine
11. You Are The Sunshine Of My Life
12. The Masquerade Is Over (I'm Afraid)
13. You Are So Beautiful

Baritone Saxophone – Helmut Wenzel, Ernst-Ludwig Petrowsky
Bass – Wolfgang "Eddie" Greiser
Conductor – Eberhard Weise
Drums – Wolfgang "Zicke" Schneider
Electric Piano, Organ – Hans-Otto Jerosch
Flugelhorn – Joachim Graswurm
Flute [Alto] – Rainer Gäbler
Flute [Alto], Flute, Tenor Saxophone – Fritz Heimbach
Flute, Alto Saxophone – Konrad Körner
Flute, Tenor Saxophone – Werner Schmidt
Flute – Ernst-Ludwig Petrowsky
Guitar, Electric Guitar – Uwe Kropinski
Piano – Axel Donner, Hans-Otto Jerosch, Eberhard Weise 
Producer – Jürgen Lahrtz
Strings – Streichergruppe Armin Zeidler
Synthesizer – Christian Pittus
Trombone – Fredy Lehman, Götz Geitner, Horst Schmidt
Trumpet – Claus-Dieter Knispel, Gerhard Pabst, Herrmann Hesse, Joachim Graswurm
Trumpet, Flugelhorn – Joachim Graswurm
Vibraphone – Hermann Naehring
Vocals – Uschi Brüning 

Since the seventies Uschi Brüning is regarded as the leading jazz singer in East Germany. With the title "Your Name" in 1972, she succeeded in gaining a foothold in the hit music industry. To date, their sphere of influence extends from literary chansons to blues, gospel, swing standards and improvisation in modern jazz.
Uschi Brüning was born on 4 March 1947 in Leipzig. Her musical career began as a guitarist in various amateur bands. During training as a lawyer and the subsequent activity as a legal secretary, she remained true to the music. In 1970 Uschi Brüning changed musically to a professional camp. Through a tour with Manfred Krug and the Klaus Lenz Band in 1971, she first became known to a larger audience. She then worked together with Klaus Lenz. Under the direction of Eberhard Weise, Uschi Brüning recorded records with a big band and collaborated with internationally renowned jazz and vocal soloists. Above all, there were always joint recordings and performances with her partner Ernst-Ludwig Petrowsky. She was also successful in the hit music industry. The hit festival in Dresden mastered her with the 2nd place. There followed some recordings on the radio. The cooperation with the Günther Fischer quintet culminated in 1973 and 1974 in LP publications. In 1975 she founded her own band "Uschi Brüning & Co". The next record was released in 1982.
Their sphere of influence extends from literary chanson to blues, gospel, swing standards and improvisation in modern jazz. Uschi Brüning and Ernst-Ludwig Petrowsky have been living and working together for many years. Petrovsky was one of the father figures of East German jazz in the GDR. With his own groups and as a member of numerous ensembles with nationally and internationally outstanding musicians, he has already released about 70 LPs and CDs. As a creative saxophonist, flutist and clarinetist, he has been and still is a sought-after soloist at many international festivals. Joint recordings of the two can be found on LPs and CDs with the Klaus Lenz Band, with Eberhard Weise, with the European Jazz Ensemble, with their group Enfant, with the Youth Jazz Orchestra Saxony, with Georg Katzer and especially in their duo.
Uschi Brüning is still active today. In autumn 2000 she appeared together with "Jazz'in the blues" in the Leipzig Gewandhaus. ---johnkatsmc5.blogspot.com
download (mp3 @320 kbs):
yandex mediafire ulozto gett bayfiles
Last Updated (Sunday, 14 July 2019 15:43)