Taj Mahal & Ry Cooder – Rising Sons (1992)
Taj Mahal & Ry Cooder – Rising Sons (1992)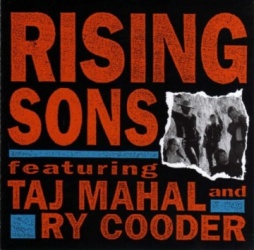 01. Statesboro Blues								play
02. If The River Was Whiskey (Divin' Duck Blues)
03. By And By (Poor Me)
04. Candy Man
05. 2:10 Train
06. Let The Good Times Roll
07. 44 Blues
08. 11th Street Overcrossing
09. Corrin, Corrina
10. Tulsa County
11. Walkin' Down The Line
12. The Girl With Green Eyes
13. Sunny's Dream
14. Spanish Lace Blues
15. The Devil's Got My Woman
16. Take A Giant Step
17. Flyin' So High
18. Dust My Broom									play
19. Last Fair Deal Gone Down
20. Baby, What You Want Me To Do?
21. Statesboro Blues version 2
22. I Got A Little (Mono)

Rising Sons: 
Ry Cooder (vocals, 6- & 12-string guitars, mandolin, slide guitar, dobro); 
Jesse Lee Kincaid (vocals, guitar); 
Taj Mahal (vocals, harmonica, guitar piano); 
Gary Marker (bass); 
Kevin Kelley (drums, percussion).

Original tracks recorded in Hollywood, California between September 9, 1965 and May 18, 1966. New Taj Mahal vocal tracks for "Dust My Broom," "Last Fair Deal Gone Down" and "Baby, What You Want Me To Do?" recorded in New York, New York on June 19, 1992. Includes liner notes by Marc Kirkeby.
In 1966 Ry Cooder was a young multi-instrumentalist with a keen interest in traditional American music. He met a similarly inclined singer called Taj Mahal, with whom he formed the Rising Sons. Countless British groups had previously combined blues with Beatles-influenced rock, but such a combination was a surprising rarity in mid-'60s California. On their sole album, the Rising Sons delve deeper than those groups for their influences, bypassing the Chicago Blues sound in favor of traditional Delta country blues.
They cover staples of the Delta repertoire like "Candyman, "The Devil's Got My Woman" and "32-20," where Cooder's nimble picking and unearthly slide mesh well with Mahal's hearty, soulful vocals. Far from revivalists, they play fast and loose with tradition--the Delta feel is offset by plenty of British Invasion-flavored rock (and "32-20" is given an Otis Redding-style treatment). The Rising Sons synthesize styles in such an effective and inventive manner that a new blues paradigm is created. ---cduniverse
Their lone single and unreleased album form the core of this 22-track reissue, which features imaginative rearrangements of standards like "Corrine, Corrina," an obscure Dylan cover ("Walkin' Down the Line"), rocking originals, a confident performance of Goffin/King's "Take a Giant Step" (later Mahal's signature tune), and nifty guitar interplay between Mahal and Cooder throughout. Overall, it sounds a lot more like it belongs in 1967-1968 than 1965-1966. This archival release has value above and beyond historical interest. --- Richie Unterberger, allmusic.com
download:   uploaded anonfiles mega 4shared mixturecloud yandex mediafire ziddu
Last Updated (Monday, 08 July 2013 19:10)