Sunnyland Slim - Be careful how you vote (1983)
Sunnyland Slim - Be careful how you vote (1983)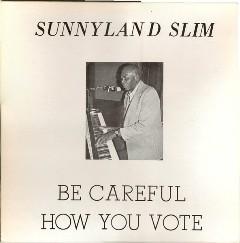 Side 1
1. Be Careful How You Vote
2. I Done You Wrong
3. Sunnyland Train
4. You Have Heard of a Woman
5. Past Life

Side 2
1. She Got a Thing Going On
2. Going Back to Memphis
3. The Devil Is a Busy Man
4. Woman Trouble Overnite
5. We Gonna Jump
6. Orphan Boy Blues

Personnel: 
Sunnyland Slim (vocals, piano); 
Eddie Taylor, Hubert Sumlin, Lurrie Bell, Magic Slim (guitar); 
Sam Burckhardt (tenor saxophone); 
Beau Biley (trombone); 
Eddie Lusk (organ); 
Hasson Miah, Mickey Martin, Fred Grady, Chico Chism (drums).

Classic example of a Chicago blues ensemble. Piano driven by the patriarch of the Chicago blues, and featuring some of the best blues guitarists and singers in the last 30 years of Chicago blues.
download:   uploaded anonfiles mega 4shared mixturecloud yandex mediafire ziddu
Last Updated (Saturday, 06 July 2013 12:26)