Audrey Horne - Youngblood (2013)
Audrey Horne - Youngblood (2013)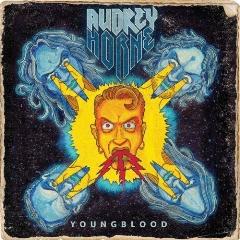 01 – Redemption Blues
02 – Straight Into Your Grave
03 – Youngblood
04 – There Goes A Lady
05 – Show And Tell
06 – Cards With The Devil
07 – Pretty Little Sunshine
08 – The Open Sea
09 – This Ends Here
10 – The King Is Dead
11 – I Wanna Know You (Bonus Track)
12 – This Ends Here (Demo) (Bonus Track)
13 – The Open Sea (Demo) (Bonus Track)

Dupermann – vocals
Ice Dale – guitar
Toschie – vocals
Espen – bass
Kim Gulbrandsen – keyboard, vocals
Kjetil – drums
Magnet – percussion, vocals
The Audrey Barbershop Quartet - Vocals (Background)

Norway-based Audrey Horne have always released modern hard rock that was seriously lacking in creativity. Their first three albums were fairly trite and derivative failing to make any significant impact outside the borders of their homeland. It's a shame because the band comprised of famed Enslaved, Gorgoroth and Sahg's members has always had an unfulfilled potential for crafting remarkable music. Youngblood is the first album of the outfit that fully capitalizes on their consummate skills as both musicians and songwriters.
The LP wouldn't be so relevant if Audrey Horne hadn't decided to make significant alterations to their sound. Namely, trite hard rock and murky post-grunge have been traded for classy heavy metal that is greatly indebted to the likes of Judas Priest, Deep Purple and Rainbow. Despite these obvious influences, Youngblood has turned out to be an inspired record that sounds much more like a fitting tribute than a caricature. The album's individuality is enhanced by a decidedly modern production which, along with adventurous transitions, propels every song.
The radical shift in sound is apparent right from the time when "Redemption Blues" makes its presence felt. The whirling, dual guitar harmonies and NWOBHM-inspired, impetuous leads are backed up with Toschie's powerful vocals that display more swagger and confidence than ever before. On the other hand, "There Goes A Lady" is an unabashed spin on sleaze rock merging bluesy grooves with a sing-along chorus to great effect. The startling infectiousness built around a series of hook-driven choruses happens to be the album's chief selling point in the long run, and the group's uncanny knack for crafting instantly memorable, pop-inflicted heavy metal is nothing short of commendable.
Moreover, Youngblood is exceptionally consistent. Stale "Show And Tell" comes as the only track that doesn't quite live up to the impressive bunch of vintage anthems. Other than that, the songs glitter with the fantasy and power heavy metal is renowned for. The heavy use of organs, shredding solos and clunky bass lines provides the music with an ever-present progressive rock vibe. The album's mesmerizing call to arms "The Open Sea" effectively blends all these elements with oddly uplifting atmosphere, while the mini-epic "The King Is Dead" ends the disc on a sombre, yet appropriately lofty note.
By going back to their roots, Audrey Horne have finally churned out the record that radiates with genuine passion. Even though Youngblood isn't going to change anybody's opinion about traditional heavy metal, it's an effort that elevates the constantly underachieving band into the ranks of the most coveted artists in the genre. It's one of these rare albums that strike a perfect balance between the flamboyance of its style and unadulterated fun. --- Greg Fisher, sputnikmusic.com
download (mp3 @320 kbs):
yandex mediafire uloz.to mega 4shared cloudmailru gett
Zmieniony (Wtorek, 10 Październik 2017 12:31)