Patty Griffin - American Kid (2013)
Patty Griffin - American Kid (2013)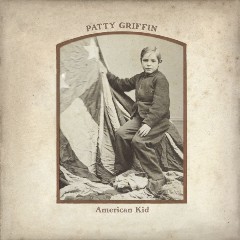 1 	Go Wherever You Wanna Go 	3:46
2 	Don't Let Me Die In Florida 	3:47
3 	Ohio 	5:12
4 	Wild Old Dog 	4:46
5 	Mom & Dad's Waltz 	2:55
6 	Faithful Son 	4:54
7 	Highway Song 	3:12
8 	That Kind Of Lonely 	4:23
9 	Irish Boy 	2:45
10 	Get Ready Marie 	2:59
11 	Not A Bad Man 	3:44
12 	Gonna Miss You When You're Gon 	4:05

Backing Vocals – Craig Ross (tracks: 6), Robert Plant (tracks: 6)
Baritone Guitar – Craig Ross (tracks: 2 to 4, 7), Doug Lancio (tracks: 11)
Bass – Craig Ross (tracks: 2, 10)
Bass [Bowed] – Byron House (tracks: 7, 8)
Choir [Drunken] – Cody (tracks: 10), Doug (tracks: 10), Luther (tracks: 10), Patty (tracks: 10), Roy (tracks: 10)
Drums – Cody Dickinson (tracks: 1-4, 10)
Guitar – Craig Ross (tracks: 1, 3, 7, 8), Doug Lancio (tracks: 2, 3, 5, 6), Luther Dickinson (tracks: 3 to 6, 10),
 PG (tracks: 1 to 8, 10 to 12)
Instruments [Canjo] – Luther Dickinson (tracks: 2)
Jug – Cody Dickinson (tracks: 10)
Mandolin – Doug Lancio (tracks: 1, 4, 5, 10)
Omnichord – Craig Ross (tracks: 12)
Organ – Craig Ross (tracks: 6, 7), John Deaderick (tracks: 10, 12)
Percussion – Cody Dickinson (tracks: 1, 3, 4, 6), Craig Ross (tracks: 3)
Piano – Craig Ross (tracks: 11), John Deaderick (tracks: 10), PG (tracks: 9)
Slide Guitar – Luther Dickinson (tracks: 1)
Vocals – PG, Robert Plant (tracks: 3, 7)

American Kid is Patty Griffin's seventh album and her first of new material since 2007 – with a gap for the Grammy-winning gospel CD Downtown Church and her work with Robert Plant's Band of Joy.
After the deceptively simply opening track Go Wherever You Wanna Go, Griffin weaves a complex and moving tapestry about life in general and her late father, Lawrence Joseph Griffin, in particular.
There is rousing music – Please Don't Let Me Die in Florida – that is driven on by musicians Luther and Cody Dickinson, of the North Mississippi Allstars, and Doug Lancio, and also the slow grace of songs such as Ohio (co-written with Plant and one of three songs on which he offers subtle support). Faithful Son has a stinging sadness. It's almost as Griffin has turned Henry David Thoreau's line "most men lead lives of quiet desperation" into a family song.
Griffin's father is the specific focus of Irish Boy and this ruminative track is complemented by a witty cameo song about her grandparents, Get Ready Marie. There is one cover song, of country singer Lefty Frizzell's Mom & Dad's Waltz. ---Martin Chilton, telegraph.co.uk
Centred around her father's passing, this seventh from the American country singer is a suitably ruminative affair, mixing her sadness with cameos from his life. Its gentle acoustic arrangements, full of intricate guitars and mandolin, come with only the odd up-tempo piece, such as the ringing Don't Let Me Die in Florida. Griffin reaches deep for the songs, taking her father's part as a young man on Not a Bad Man and the piano ballad Irish Boy, while the lovely Ohio, to which her sidekick, Robert Plant, adds harmonies, reflects on waters that are "softer and deeper than time". A triumph. ---Neil Spencer, theguardian.com
download (mp3 @320 kbs):