Kayah i Bregovic (1999)
Kayah i Bregovic (1999)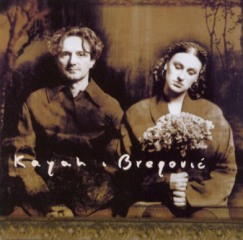 01. Śpij Kochanie, Śpij
02. To Nie Ptak
03. 100 Lat Młodej Parze
04. Byłam Różą
05. Trudno Kochać
06. Prawy Do Lewego
07. Ta-Bakiera
08. Čaje Šukarije
09. Jeśli Bóg Istnieje
10. Nie Ma, Nie Ma Ciebie

Musicians: 
   Vocals – Kayah
    Arranged By – Goran Bregović
    Backing Vocals – Andrzej Dziubas, Bartłomiej Kudasik, Józef Chyc-Scepton, Kayah,
    Sebastian Karpiel-Bułecka, Wojciech Topa
    Co-producer – Grzegorz Brzozowicz
    Engineer – Michał Przytuła, Predrag Milanović
    Lyrics By – Kayah
    Mastered By – Goran Bregović
    Mixed By [Vocals] – Michał Przytuła
    Music By – Goran Bregović
    Producer, Programmed By, Recorded By – Goran Bregović, Ognjen Radivojević*, Predrag Milanović
    Vocals – Kayah

Kaya was born as Katarzyna Szczot in Białystok in the eastern part of Poland. At a young age Katarzyna started to learn to play the piano. In 1985 she got her diploma in mrs. prof. Anna Narkiewicz's piano class. She started her career together with reggae bands Rastar and Zgoda and somewhat later Tilt (the song 'Mówię ci, że'). In 1988 she made her scene debut on the Festival of Baltic Countries in Karlsham with a song 'Córeczko chciałabym, żebyś była chłopcem', for which she got a festival's special award and, more important, the event resulted in a lot of publicity in Poland. This allowed her to publish her first solo record 'Kayah' by Polskie Nagrania. However the specific climate in Polish show-business in those days has slowed down her success.
She returned in 1995 with 'Kamień' ('Stone'). The record, oscillating in climates of soul, jazz and r&b, met high appreciation of critics and the whole branch and quickly became gold in Poland. The year 1996 brought Kaya a well deserved triumph. She was granted with the 'Fryderyk '95' for best Polish female singer and appreciated as "The personality of the year 1996'. She strengthened her position on the market with her next album named 'Zebra'. In 1997 she recorded a duet with Urszula called 'Uwierz, to nie ja' for the compilation "Playboy Play" enclosed in the magazine Playboy. In 1998 Kayah started to run her own TV program 'To było grane' ('This used to be played') on TVN television.
Two years after 'Zebra', Kayah and Goran Bregović decided to collaborate, what resulted in a unique album, 'Kayah i Bregović'. The duo performed the album at 'Sopot Festival' and on 'Służewiec 10 november 2000' in Warsaw for over 50.000 people. The follow up album "JakaJaKayah' was a succesfull return to funk and dance. The record contained a duet with Cesaria Evora, 'Embarcacao', which was released as a single in February 2001. Kayah performed on 18th May in Wadowice on the occasion of Pope's birthday, when she sang the song 'Anioł wiedział'. Later on she performed in Opole, where she was given 4 'Superjedynka awards' (the most important award of TVP) in following categories: best female singer, hit single, video and the record of the year.
In 2001 Kayah became the WWF ambassador in Poland. The same year she established a production joint-venture with K. Pszona. The first result of their work are the 7 songs on the last Ewa Bem's record 'Mówię tak myślę nie' ('I say yes, I think no').
The latest Kayah album titled 'Stereo typ', preceded by the hit single 'Testosteron', was released at the end of August 2003. In 2009 she released a new studio album with the title 'Skała/Siła woli'. She redo's the whole project a year later with the Royal Quartet. --- europopmusic.eu
Goran Bregović po światowych sukcesach filmów z jego muzyką i współpracy z artystami tej miary co Iggy Pop, wyraźnie szuka teraz szczęścia u swoich słowiańskich braci. Ogromna popularność płyty "Ederlezi"i promującej ją trasy koncertowej w naszym kraju skłoniła go do pozostania nad Wisłą nieco dłużej i wyprodukowania albumu, który wraz z nim firmuje Kayah. W pierwotnym zamyśle miał to być longplay podpisany wyłącznie przez nią, ale wkład Bregovicia okazał się tak duży, iż artysta uznał, że jego nazwisko też musi się znaleźć na okładce. Co się zaś tyczy samej muzyki, Kayah & Bregović nikogo raczej nie zaskoczy. Kayah pozostaje na tej płycie sobą, mimo że obecność byłego lidera Bijelo Dugme jest łatwo wyczuwalna. Specyficzne harmonie i rytmika, wywiedzione bezpośrednio z muzyki cygańskiej i szeroko pojętego folkloru bałkańskiego, nie zdołały jednak przyćmić silnej osobowości artystycznej naszej wykonawczyni. Wydaje się nawet, że to najlepsza płyta, jaką do tej pory nagrała. ---(g), merlin.pl
download (mp3 @320 kbs):
salefiles yandex 4shared mega mediafire zalivalka cloudmailru uplea
Zmieniony (Czwartek, 28 Kwiecień 2016 12:17)