Gounod (3)
Gounod
1. Faust (Mp4)
380 MB + 310 MB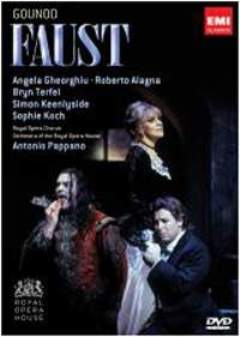 Angela Gheorghiu (Marguerite), 
Roberto Alagna (Faust), 
Bryn Terfel (Méphistophélès), 
Simon Keenlyside (Valentin) 
Sophie Koch (Siébel)

Orchestra & Chorus of the Royal Opera House
Antonio Pappano (conductor) 
David McVicar (director)

David McVicar's spectacular 2004 production of Gounod's Faust, featuring a divine cast of opera's superstars. McVicar is one of the most innovative and in-demand directors, and his lush, haunting realised vision of Faust received glorious praise. The production revels in a gothic, seamy Second French Empire setting, with the Act V ballet "haunting the imagination long after" ---The Independent
"Alagna depicts Faust's transition from Gounod-like ancient to cartwheeling young boulevardier and drug-addled Baudelairean decadent with energy and elegant phrasing...[Terfel] suggests the constant predatory menace beneath the musketeer panache with a curious dignity...[Pappano's] theatrical vigour banishes any trace of Gallic langour, a thoroughly un-fustian Faust." ---BBC Music Magazine
download:
2. Romeo & Juliette 2002 (FLV)
740 MB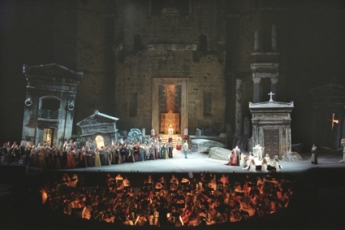 Angela Gheorgiu - Juliette
Roberto Alagna - Roméo
Jean-François Lapointe - Mercutio
Rene Pape - Frère Laurent

Orchestre National du Capitole de Toulouse
Michel Plasson – director

Roméo et Juliette (Romeo and Juliet) is an opéra in five acts by Charles Gounod to a French libretto by Jules Barbier and Michel Carré, based on The Tragedy of Romeo and Juliet by William Shakespeare. It was first performed at the Théâtre Lyrique (Théâtre-Lyrique Impérial du Châtelet), Paris on 27 April 1867. This opera is notable for the series of four duets for the main characters and the waltz song "Je veux vivre" for the soprano.
Gounod's opera Faust had become popular at the Théâtre Lyrique since its premiere in 1859 (it was performed over 300 times between 1859 and 1868) and this led to a further commission from the director Carvalho. Behind the scenes there were difficulties in casting the lead tenor, and Gounod was said to have composed the last act twice, but after the public general rehearsal and first night it was hailed as a major success for the composer. Its success was aided by the presence of dignitaries in Paris for the Exhibition, several of whom attended performances.
download:  yandex 4shared mixturecloud
3. Mireille 2009 (Mp4)
570 MB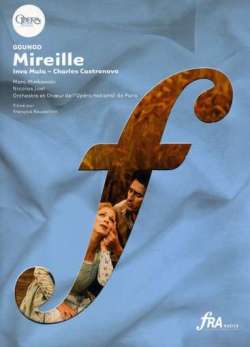 Mireille - Inva Mula
Vincent - Charles Castronovo
Ourrias - Franck Ferrari
Ramon - Alain Vernhes
Taven - Sylvie Brunet
Vincenette - Anne-Catherine Gillet
Andrelou - Sébastien Droy
Ambroise - Nicolas Cavallier
Clémence - Amel Brahim-Djelloul
Le Passeur - Ugo Rabec

Paris Opera Orchestra and Chorus
Marc Minkowski – conductor

This production resuscitates Gounod s original composition, largely forgotten. A triumph for Minkowski, conducting at the Opera national de Paris, it attracted more than 1 million viewers when broadcast on TV! No competition on DVD or Bluray At last, Mireille one of the most original works of the 19th century has found its rightful place at the Palais Garnier. In 1854, a young Provençal poet, Fredéric Mistral, founded a literary association with a few other people, the aim of which was to uphold and illustrate its language and culture. They called this school Félibrige, a word of mysterious origin - a blend of joy, books and freedom. In 1859, he took things one step further and gave Félibrige its battle flag and masterpiece, Miréio, a vast epic love poem. As it happened, Gounod, whose Faust was created that year, read Mireille shortly after publication and was full of enthusiasm and went to Saint-Rémy de Provence to seek out this passionate music. Due to its singularity and density, the work has had a difficult career and was revised and altered several times. In 1939, Guy Ferrant and Henri Busser, disciples of Gounod, restored the original and Mireille was finally restored from the fine midsummer's morning and its dancing to the gripping scene in the desert-like Crau region.
download:  yandex 4shared mixturecloud
Zmieniony (Wtorek, 30 Kwiecień 2013 22:49)