Max Richter – Voices 2 (2021)
Max Richter – Voices 2 (2021)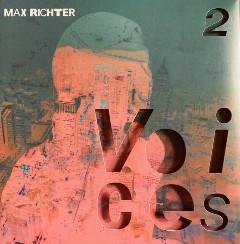 1		Psychogeography	6:53
2		Mirrors	2:36
3		Follower	5:03
4		Solitaries	4:49
5		Movement Study	5:48
6		Prelude 2	4:18
7		Colour Wheel	3:02
8		Origins (Solo)	4:08
9		Little Requiems (Cello Version)	7:35
10		Mercy Duet	4:26

Max Richter: keyboards, piano
+
Cello: Ashok Klouda, Ayako Halder, Chris Allan, Chris Worsey, Dave Daniels Davina Shum, George Hoult,
 Heeyeon Cho, Helen Rathbone, Ian Burdge, Ivan Hussey, James Douglas, Jess Cox, Katherine Jenkinson
Double Bass: Andy Marshall, Beth Symmons, Beverley Jones, Jack Cherry, Laurence Ungless, Leon Bosch
Harp: Camilla Pay
Viola: Bruce White, Clifton Harrison, Elisa Bergersen, Emma Sheppard
Violin: Mari Samuelsen, Ani Batikian, Claire Kohda Hazelton, Daniel Bhattacharya, Elspeth MacLeod,
 Eva Thorasrinsdottir, Everton Nelson, Gillon Cameron, Hazel Correa, Ian Humphries, Jamie Hutchinson,
  Juan Gonzalez, Kotono Sato
Harp: Camilla Pay 

The intention of Max Richter's music is activism, but without pressure. He called Voices "a place to think" and "quiet protest". Minus the spoken elements, Voices 2 is even more gently contemplative, offering a calm environment to ponder the ideas presented by the first work. This latest release is about hope for the future.
Much of the album is based on the original compositions in Voices, with the same musicians producing additional pieces and interpretations in lockdown, including Richter's piano solos, recorded at Abbey Road. Purely instrumental this time, Voices 2 unearths variations on the tracks in the first record.
Introductory piece Psychogeography's soft violins hum, as an angelic chorus emerges along with low-pitched strings, slowly becoming louder and more complex, undulating, then followed by a strong cello solo. The effect is of ecstatic ascent, like a magnificent sunrise, after which it grows softer, gradually fading.
With melancholy piano, Mirrors (also a lead single) gently, wistfully rises, conjuring images of sweeping vistas, a walk through a meadow, or a blossoming flower (as in the music video by Yulia Mahr), expressing the reawakening and renewal of spring. Again a seraphic chorus rises in Follower, as subsequent deep strings add gravity, descending into the abyss as the vocals rise and become louder. It could be interpreted as the co-existence of heaven and hell, or dark clouds engulfing a sunny landscape, then receding as the sun returns.
Solemn church-like organs in Solitaries strongly echo the original album's sound, and blur the line between vocals and instruments. A heavy string section then rising chorals begin Monument Study, a weighty piece that evokes oppression and hardship – perhaps the gruelling voyages of migrants as they seek to escape torment and the ravages of war.
Low keyboard descends in Prelude 2, as a reflective, haunting, weeping viola expresses heartache and suffering, a gravity reminiscent of Bach's most solemn concertos. As relief from the desolation, Colour Wheel is euphoric as chorus and strings, incorporating electronic sound, rise like a spaceship taking off.
Gorgeous piano played by Richter in Origins (Solo) flows like a magnificent river of resurrection and rebirth. It might be an enraptured journey around the globe through mountains, valleys, seas, rivers, forests and jungles. Cello rises while violins descend in the sombre Little Requiems (Cello Version), later dissolving to a hypnotic, soft buzz of instrumentals and chorus that slowly fades away. Finally Mercy Duet features only piano, but is a reflection of the original strings and piano version of Mercy on Voices. With a repetitive melody, this exquisite, pensive track is romantic and flows gently.
Voices is a complex, fascinating, superb album, and the outstanding Voices 2 is its meditative accompaniment – a purely musical extension, adding an extra element of thought to the whole. ---Catherine Sedgwick
Jak powiedział Max Richter, projekt jest aktualny. Muzyczne dzieło zainspirowane Powszechną Deklaracją Praw Człowieka ma swoją kontynuację. Jego pierwszej części mogliśmy posłuchać m.in. 10 grudnia, kiedy to "Voices" transmitowało 40 stacji radiowych na całym świecie. Odbyło się to w ramach obchodów Dnia Praw Człowieka Organizacji Narodów Zjednoczonych.
"Voices 2" stanowi bezpośrednią kontynuację pierwszej części tego nieustannie rozwijającego się przełomowego projektu, będącego ucieleśnieniem idei Powszechnej Deklaracji do zbudowania lepszego i bardziej sprawiedliwego świata.
Opisany przez Maxa Richtera jako "przestrzeń do namysłu" projekt Voices był odpowiedzią na burzliwy klimat polityczny i nieustającą potrzebę współczucia.
Podczas gdy pierwsza część projektu - "Voices" - kupia się na tekście Powszechnej Deklaracji Praw Człowieka i jej podnoszącym na duchu przekazie, "Voices 2" 2 otwiera medytacyjną przestrzeń muzyczną, by rozwinąć idee zaznaczone na pierwszej płycie. Przesłaniem najnowszej odsłony projektu VOICES jest nadzieja.
I tym razem w projekcie towrzyszyła Maxowi Richterowi Yulia Mahr, autorka poruszających wideoklipów do kilku utworów "All Human Beings", "Mercy" (Voices 1) i "Mirrors" (Voices 2). ---audio.com.pl
download (mp3 @320 kbs):
yandex mediafire ulozto solidfiles workupload