Professor Longhair - House Of The Blues (2010)
Professor Longhair - House Of The Blues (2010)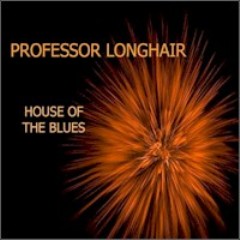 01. Junco Partner
02. Meet Me Tomorrow
03. Doin' It
04. How Long Has That Train Been Gone
05. Tipitina
06. Rockin' Pneumonia
07. Jambalaya                  play
08. Mean Ol' World             play
09. Stag-O-Lee
10. Mess Around
11. Hey Now Baby
12. (They Call Me) Doctor Professor Longhair

Personnel:
Henry Roeland Byrd; Roy Bird, Fess, A. K. A. Professor Longhair (piano, vocals),
Clarence "Gatemouth" Brown (guitar, violin),
Julius Farmer (bass),
Edwin "Sheeba" Kimbraugh (drums),
Alfred "Uganda" Roberts (conga).
Jerry Jumonville (baritone & tenor saxophones),
Steve Madaio (trumpet).

Recorded at Studio In The Country, Bogalusa, Louisiana
on April 3-4, 1974

Professor Longhair (born Henry Roeland Byrd, also known as Roy "Bald Head" Byrd and as Fess) was a New Orleans blues singer and pianist. He was born in Bogalusa, Louisiana, and was noted for his unique piano style, which he described as "a combination of rumba, mambo, and Calypso", and his unusual, expressive voice, once described as "freak unique". He was called the Bach of Rock and Roll for the clarity, varied and extremely accurate and "funky" syncopation, and the beautiful tone of his piano playing. Byrd is noteworthy for having been active in two distinct periods, both in the heyday of early rhythm and blues, and in the resurgence of interest in various forms of traditional jazz after the New Orleans Jazz and Heritage Festival was created. At that time Byrd became a New Orleans icon.
Professor Longhair had only one national commercial hit, "Bald Head" in 1950, and he lacked the crossover appeal for the white audience of Fats Domino. But his rollicking, idiosyncratic, rumba-based piano and exuberant singing made him one of New Orleans biggest rock stars.
Professor Longhair began his career in New Orleans near the end of the 1940s but was not well known outside of the city at that time. Throughout the 1950s he recorded for Atlantic Records, Federal Records and other, local labels. In the 1960s his career faltered and he became a janitor and gambled. But he was rediscovered in 1969 as the large white blues audience began to appreciate him and he was referred to as the "Father of New Orleans R&B". During this period his albums, such as Crawfish Fiesta on Alligator Records and New Orleans Piano for Atlantic became readily available. Professor Longhair died in 1980.
In 1981 he was inducted into the Blues Hall of Fame. He was awarded a posthumous Grammy for his early recordings released as House Party New Orleans Style, and in 1992 was inducted into the Rock and Roll Hall of Fame.
download:   uploaded anonfiles mega 4shared mixturecloud yandex mediafire ziddu
Zmieniony (Sobota, 15 Czerwiec 2013 12:45)