Jesse Ed Davis – Ululu (1972)
Jesse Ed Davis – Ululu (1972)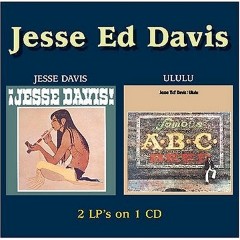 1. Red Dirt Boogie Brother
2. White Line Fever
3. Father On Down The Road
4. Sue Me Sue You Blues
5. My Captain
6. Ululu
7. Oh! Susannah		play
8. Strawberry Wine
9. Make A Joyful Noise
10. Alcatraz			play

Personnel: 
Jesse Ed Davis Primary Artist, Guitar, Vocals, Background Vocals; 
Dr. John Piano, Organ, Piano; 
Leon Russell Piano; 
Clydie King Vocals, Background Vocals; 
Jim Keltner Drums; 
Albhy Galuten Piano; 
Charles Chalmers Vocals; 
Merry Clayton Vocals, Background Vocals; 
Donald "Duck" Dunn Bass, Electric Bass; 
Venetta Fields Vocals; 
Chuck Kirkpatrick Vocals, Background Vocals; 
Larry Knechtel Organ, Keyboards; 
Billy Rich Bass, Electric Bass; 
Arnold Rosenthal Bass, Electric Bass; 
Stan Szelest Piano.

Wounded Bird is a label that has been dredging the depths of the record company catalogs and issuing a slew of outings from the sublime -- the MJQ's 1957 Modern Jazz Quartet album -- to the ridiculous -- Fiona's two albums -- on CD. Here they do the rock & roll world a great service by reissuing the first two albums by the brilliant late guitarist Jesse Ed Davis, who recorded for Atlantic in the early '70s. Jesse Davis was originally released in 1971 and cut haphazardly over a weekend. It has the same loose feel that Delaney & Bonnie's Motel Shot does, though it does not reach the same staggering heights. This is a star-studded affair that includes Eric Clapton, Ben Sidran, Leon Russell, Joel Scott Hill, Alan White, and a dozen others, along with a horn section. The backing vocalists are a who's who as well: Gloria Jones, Venetta Fields, Clydie King, Merry Clayton, Bobby Jones, Maxine Willard, and some kid named Gram Parsons (also present on the Motel Shot session in the same capacity). Davis' songwriting wasn't quite there, but 30 years later, its raw immediacy and good-time feel hold up and deserve another listen.
In contrast, Ululu, released in 1973, is a monster. It's swampy, greasy, nocturnal blues and roll of the highest order. The cast this time out is no less stellar, though there are a lot fewer people in the mix. Russell is back, as are most of the background singers, but added to the fold are Dr. John, Donald "Duck" Dunn, and drummer Jim Keltner. This time out, Davis' guitar playing, particularly his slide work, is front and center, and the overall approach is tighter, more focused. The album's first cut, Davis' "Red Dirt Boogie, Brother," is spooky, dirty, and nasty, and the next track, a cover of Merle Haggard's "White Line Fever," transforms the tune from a hillbilly anthem into a barroom singalong with killer guitar fills. Other remakes include a beautiful version of George Harrison's "Sue Me, Sue You Blues," the Band's "Strawberry Wine," and Leon Russell's "Alcatraz," which closes the set. The finest moment here, however, is in "Farther On Down the Road (You Will Accompany Me)," co-written with Taj Mahal and first recorded when Davis was playing with the bluesman. It's grittier than the original, more desperate, forlorn, and shambolic, with Davis' vocal stretched to its limit buoyed by his weeping guitar. No doubt about it, everyone is richer for having these recordings available on CD domestically, and '70s rock fans would do well to check this disc out. ~ Thom Jurek
download (mp3 @ kbs):
yandex 4shared mega mediafire uloz.to cloudmailru gett
Zmieniony (Sobota, 12 Sierpień 2017 15:45)