Nuno Mindelis - Free Blues (2010)
Nuno Mindelis - Free Blues (2010)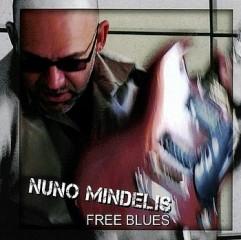 01. Messing With The Kid - Mel London 3:55
02. Feeling Alright - Dave Mason 3:38
03. Get Out of My Life, Woman - Allen Toussaint 3:40
04. All Your Love - Otis Rush 4:52
05. While My Guitar Gently Weeps - George Harrison 4:31
06. Thrill is Gone - Roy Hawkins & Rick Darnell 4:54
07. Dust My Blues (Dust My Broom) - Aaron "Pinetop" Sparks & Milton "Lindberg" Sparks 5:19
08. Rockin' Daddy - Chester Burnett 3:17
09. Rock Me Baby - Trad. 4:18
10. Think Stax, Jax - Nuno Mindelis 4:28
11. Bullfrog Blues - Trad. 4:01
12. Red House - Jimi Hendrix 5:06

Personnel:
Nuno Mindelis - Guitar, Vocals,  Kork keyboards, machine drum & effects 
Rodrigo Mantovani - Bass 
Lomiranda - Hammond B3, Clavinet 
Flavio Naves - Hammond B3, Fender Rhodes 
Jax Baird - Hammond organ
Endrigo Bettega - Acoustic Drums 
Humberto Ziegler - Acoustic Drums 
Guillherme Chiapetta - Bass, Percussion, Vocals
Mike Bowden - Vocals 

Free Blues, by internationally acclaimed Blues guitarist Nuno Mindelis, celebrates a Blues Phoenix arising from the ashes. Blues music has undergone rediscovery and rebirth as it is passed from generation to generation. Eric Clapton and others helped deliver Blues reborn in the 1960's and 1970's. The Blues deserve more than a rote replay in exactly the same way as we have heard it for over 40 years. There is more to Blues than merely Blues Rock.
To honor those who have kept the Blues alive, Nuno first looked back to twelve themes which touched him deeply in his early teenage years. Tributes to the icons of the Blues, like Steve Cropper ("Get Stax, Jax"), are served, with tasty versions of the Blues classics ("Dust My Broom," "The Thrill is Gone," and many others, ending with a blistering rendition of Hendrix' "Red House"). Some tracks, like George Harrison's "While My Guitar Gently Weeps," and "Feelin' Alright" by Dave Mason, are not part of the traditional Blues canon, but are critical to the development of the Blues nonetheless. Nuno follows these early mentors, who injected electricity and rock into the origianal rural blues form. They triggered an explosion of innovation and revolution in the language of the Blues, making it accessible to new generations. Indeed, without this innovation, the Blues might now be found only in a museum.
Free Blues continues the rebirth of the Blues, but now infusing the contemporary musical language instead of the Rock themes of the 60's.
The true art is maintaining the traditional format of guitar and vocals as the foundation upon which Free Blues is crafted. Nuno creates a stunning and energized journey through the Blues that will both please Blues traditionalists and introduce this vital music to a new generation, just as the rock artists did decades ago. Make no mistake - Free Blues is not electronica, hip hop, or some watered down Blues-tinged bouillabaisse - it is the real Blues. ---cdbaby.com
download:   uploaded anonfiles mega 4shared mixturecloud yandex mediafire ziddu