KoRn - Life Is Peachy (1996)
KoRn - Life Is Peachy (1996)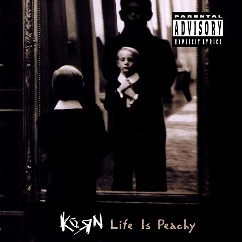 1. "Twist" – 0:50
2. "Chi" – 3:55
3. "Lost" – 2:55
4. "Swallow" – 3:38
5. "Porno Creep" – 2:01
6. "Good God" – 3:20
7. "Mr. Rogers" – 5:10
8. "K@#ø%!" – 3:02
9. "No Place to Hide" – 3:31
10. "Wicked" con Chino Moreno (cóver de Ice Cube) – 4:00
11. "A.D.I.D.A.S." – 2:32
12. "Low Rider" (cóver de War) – 0:58
13. "Ass Itch" – 3:39
14. "Kill You" – 8:38

Bagpipes – Jonathan Davis
Bass – Fieldy
Drums – David
Guitar – Head, Munky
Vocals – Head, Jonathan Davis 
+
Cowbell – Chuck Johnson
Vocals – Chino Moreno
Vocals [Additional] – Baby Nathan
With their second album, Life Is Peachy, Korn have enhanced their metallic influences, delving deeper into murky sonic textures and grinding, menacing rhythms straight out of underground black metal. Korn add enough elements of alternative rock song structure to make the music accessible to the masses, and their songwriting has continued to improve. Nevertheless, the band's main strength is their raging, visceral sound, which is far more memorable and effective than their songs. The riffs might not always catch hold, but the primal guitars and vocals always hit home. ---Stephen Thomas Erlewine, AllMusic Review
Są osoby, które twierdzą, że ten album Korna to wpadka. Ja muszę temu zaprzeczyć. "Life is Peachy" jest na prawdę wartościową płytą. Najwięcej tu ze wszystkich wydawnictw Korna niezrozumiałego Davisowego wrzasku, który lubię. Styl najbardziej przypomina pierwsze parę piosenek z debiutanckiej płyty.
Pierwszym utworem jest "Twist", będący minutową rozgrzewką dla Davisa. Śpiewa w jakimś wymyślonym języku (słyszałem określenie, że on szczeka jak pies), jedynie pod koniec powtarza parę razy słowo "twist". Mniejsza jednak o intro, teraz o piosenkach. Większość idzie na nisko nastrojonym basie oraz gitarach i dynamicznym biciu perkusji. Śpiew Davisa zmienia się z piosenki na piosenkę. Czasem śpiewa jakby się gdzieś śpieszył, czasem - tak jakby był w depresji, jeszcze kiedy indziej burczy po nosem niewiadomo co.
Najlepsze piosenki to "Chi", "Swallow", "Wicked" i "A.D.I.D.A.S." (czyli "All Day I Dream About Sex"). Tematem przewodnim znacznej części jest seks, nawet w postaci wykrzykiwanych wulgaryzmów jak "K@#0%!".
Na zakończenie powtarzam: "Life is Peachy" to nie wpadka, to płyta Korna w najlepszym wydaniu. ---Jacek R., rockmetal.pl
download (mp3 @ kbs):
Last Updated (Thursday, 31 May 2018 22:00)