Angra ‎– Ømni (2018)
Angra ‎– Ømni (2018)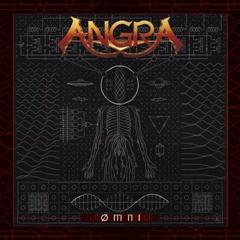 1 	Light Of Transcendence 	
2 	Travelers Of Time 	
3 	Black Widow's Web	(Feat. Alissa White-Gluz)
4 	Insania 	
5 	The Bottom Of My Soul 	
6 	War Horns	(Feat. – Kiko Loureiro)
7 	Caveman 	
8 	Magic Mirror 	
9 	Always More 	
10 	Ømni - Silence Inside 	
11 	Ømni - Infinite Nothing

Bass – Felipe Andreoli
Choir – Alirio Netto, Bruno Valverde, Claudya França, Felipe Andreoli,
 Georgia Mello, Gus Soularis, Livia Dabarian, Rafael Bittencourt
Drums – Bruno Valverde
Guitar – Marcelo Barbosa
Guitar, Vocals – Rafael Bittencourt
Keyboards – Alessio Lucatti (tracks: 1 to 3, 5 to 8, 10, 11), Nei Medeiros (tracks: 4, 9)
Orchestra, Arranged By – Francesco Ferrini (tracks: 1 to 4, 6 to 10), Ronaldo "Cordas" de Oliveira (tracks: 5, 11)
Percussion – Dedé Reis (tracks: 2, 3, 6, 7), Tiago Loei (tracks: 4), Wellington Sancho (tracks: 5, 8 to 10)
Vocals – Fabio Lione 

Change does not appear to affect Angra. They survived a massive schism around the turn of the century and now Dave Mustaine has hijacked longtime guitarist Kiko Loureiro for Megadeth, they still manage to put together another great album. Most of the current line-up already proved that the (largely) Brazilian band could still pump out great progressive power metal, as 'Secret Garden' was the best metal album of 2015. Now that 'Secret Garden' has put Angra back on the map, 'Ømni' shows the band stretching their boundaries a little. The results are slightly less memorable, but a very rewarding listen nonetheless.
Much to my surprise, Loureiro's replacement Marcelo Barbosa is an integral part of the album, having contributed significantly to the songwriting. Sole founding member Rafael Bittencourt gratefully profits from the possibilities his guitar partnership with Barbosa provides as well. As a result, 'Ømni' ends up sounding less European-tinged power metal and more like a progressive metal album with very distinct world fusion overtones. Angra never shied away from putting their South American roots on display, but it seems like partnering with Barbosa gave Bittencourt the courage to dive deep into crossover opportunities, providing the basis of the most interesting moments of 'Ømni'.
That does not mean that there is no place for power metal on 'Ømni'. In fact, the album starts out with two fairly traditional, euphoric power metal numbers, with 'Travelers Of Time' being the more contemporary take on the genre and 'Light Of Transcendence' the more old school one. Even these tracks sound fresh though, as Angra always had a way of rubbing up against clichés, but never fully engaging. On the metallic side of the album, 'Magic Mirror' is great, but 'War Horns' is the true winner. Darker and heavier than Angra usually sounds, it is an intense listening experience, on which Loureiro guests.
Despite all this familiarity, 'Ømni' is best when it surprises. The semi-ballad 'The Bottom Of My Soul' has a very folky basis and some beautifully heartfelt vocals by Bittencourt, while 'Caveman' has some chants in Portuguese and Latin-flavored drums and percussion alternating with the stomping riff work and Fabio Lione's mighty voice. The complete fusion of all styles can be heard in 'Ømni – Silence Inside', in which we can hear everything from subtle bossa nova touches to virtuosic progmetal without ever sounding disjointed. If anything, the song has a supreme build-up. 'Black Widow's Web' may come across as messy, but is too enjoyable a dark progster to complain. 'Insania' contains some of Felipe Andreoli's best bass work yet.
All in all, 'Ømni' presents quite a unique mixture of styles which leaves you wondering why this combination is not attempted more often. It is a great progressive metal album that may not be as easy to digest as 'Secret Garden' was, but will probably prove to be more durable throughout. 'Ømni' is one of those albums that slowly reveals its small secrets over repeated listens. In addition, it is the ultimate evidence that Angra still has its artistic merits more than two and a half decades into their career. Anyone who wishes to hear how versatile the guitar can be in a metal context, should give 'Ømni' a spin. ---Agonymph, metal-archives.com
"ØMNI" jest koncept albumem zbierającym krótkie opowieści science fiction rozgrywające się w tym samym czasie w różnych miejscach. Motyw przewodni historii, opowiadanej przez podróżników w czasie, jaskiniowców, czy wojowników, oparty jest na pomyśle, że w 2046 roku system sztucznej inteligencji zmieni procesy ludzkiej percepcji i umożliwi świadomą komunikację z ludźmi żyjącymi w przyszłości. Koncept albumu wiąże się z historiami zaprezentowanymi na poprzednich płytach Angry ("Holy Land", "Rebirth", "Temple of Shadows") w jeden system o nazwie "ØMNI", którego nazwa po łacinie oznacza "wszystko". ---magazyngitarzysta.pl
download (mp3 @320 kbs):