Brian May + Kerry Ellis ‎– Golden Days (2017)
Brian May + Kerry Ellis ‎– Golden Days (2017)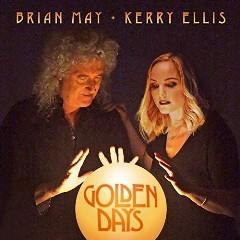 1 	Love In A Rainbow
2 	Roll With You
3 	Golden Days
4 	It's Gonna Be All Right (The Panic Attack Song)
5 	Amazing Grace
6 	One Voice
7 	If I Loved You
8 	Born Free
9 	Parisienne Walkways
10 	I Who Have Nothing
11 	The Kissing Me Song
12 	Story Of A Heart
13 	Can't Help Falling In Love

Bass Guitar – Brian May (tracks: 1, 6, 8 & 11), Neil Fairclough (tracks: 1 to 4, 9, 10 & 12)
Drums – John Miceli (tracks: 1 to 7, 9, 10, 12, 13), Rufus Taylor (2) (tracks: 8 & 11)
Guitar, Vocals, Keyboards, Sitar, Gayageum, Arranged By – Brian May
Keyboards [Additional] – Jeff Leach (tracks: 2, 5, 9 , 11 & 12)
Vocals – Kerry Ellis

Queen's Brian May and musical theatre stalwart Kerry Ellis have forged a strong, if unexpected, musical partnership over the past few years.
In their newest collaboration the pair have delved into their live back catalogue, deliver their own versions of some well-known classics, as well as penning a series of original songs. The result is an eclectic mix of styles and genres, doubtless to appeal to their diverse fan base. ---glasgowtheatreblog.com
A MOSTLY unknown gem, Story Of A Heart is a glorious pop song by ABBA's Benny Andersson and Bjorn Ulvaeus. Benny's own band scored a minor UK hit in 2009, but one day someone is going to have a huge smash with it.
Spookily, eight year on, both Steps and Brian May with Kerry Ellis are releasing separate versions within days of each other, Steps unleashing theirs next week, giving the Queen axe man and West End siren an early advantage. Time will tell who makes the better job.
Golden Days is a lovingly crafted work from kindred spirits, combining new songs with classics, such as If I Loved You from Carousel, Shirley Bassey's I Who Have Nothing and Gary Moore and Phil Lynott's Parisienne Walkways, in a pot-pourri of rock anthems, tender ballads and the exotic. ---yorkpress.co.uk
download (mp3 @320 kbs):
yandex mediafire ulozto gett bayfiles